CRRC goes full steam ahead abroad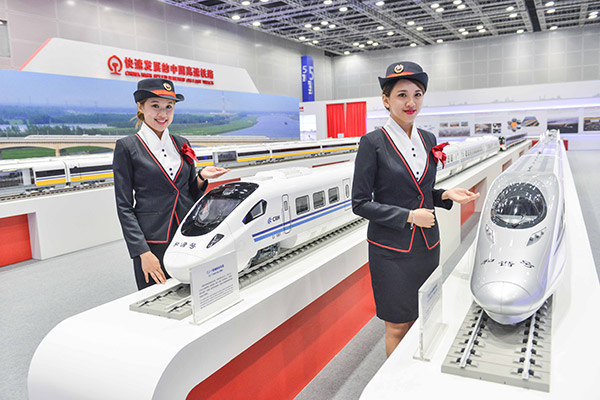 Models display CRRC trains at an industry expo in Kuala Lumpur, Malaysia. [Photo/Xinhua]
Total value of orders from overseas customers surged to $8.1b in 2016
Train and rail equipment manufacturer China Railway Rolling Stock Corp made a major breakthrough in export volumes, quality, sales models, business cooperation and integration in overseas markets in 2016, according to one of its top executives.
The company said the total value of orders from abroad surged by 40 percent year-on-year to $8.1 billion in 2016. It added that exports reached 102 countries and regions and about 83 percent of countries with railroads are using CRRC products.
"In terms of sales, our orders received in 2016 were the equivalent of the total sales of Siemens AG or Bombardier Inc's railway businesses in 2015," said Yu Weiping, CRRC's vice-president.
Yu said his company would further develop "smart trains" which use advanced digitalization and automation technologies that enable automatic speed controls and fault detection.
CRRC's main businesses cover research and development, design, manufacture, repairs, sale, leasing and technical services for rolling stock.
It is also involved with urban rail transit vehicles, engineering machinery, all types of electrical equipment, electronic equipment and parts, electric products and environmental protection equipment and consulting services.
CRRC last year also pressed ahead with its goals to gain in quality and market share in such premium markets as the United States and Europe.
It shipped bullet train units to Macedonia and received an order of 846 rail cars from the Chicago Transit Authority in 2016.
Beijing-based CRRC signed a 14 billion yuan ($2.03 billion) maintenance contract with South Africa-the biggest one it ever signed-further advancing its strategy to export its services to global markets.
The company also expanded moves into businesses in Australia, the US, South Africa, India, Turkey and Europe through building research centers, factories and joint ventures.
"Chinese trainmakers could also find growth in many developing countries and regions along the Belt and Road Initiative-for improved railway infrastructure, passenger services and regional connectivity, as well as their desire to create jobs and new commercial areas," said Qi Shaobin, a researcher at the Institute of Transportation Research under the National Development and Reform Commission.
Eager to further compete with its Japanese and German rivals, CRRC has already started research and development of a magnetic levitation or maglev train that can reach 600 km per hour.
The group will build a maglev rail line up to 5 kilometers long to test the train.
The project will be led by CRRC Qingdao Sifang Co Ltd in Shandong province, one of the country's three bullet train makers.