Pension funds to have low exposure to share markets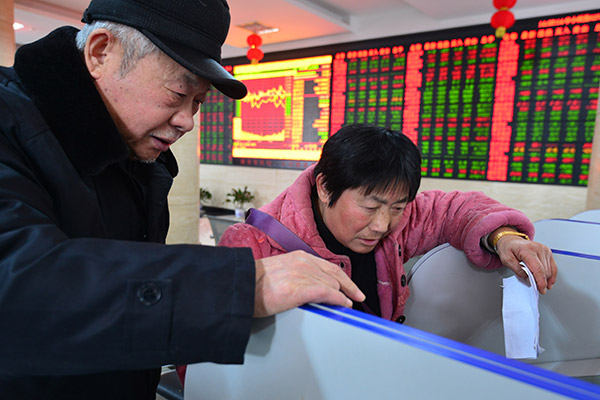 Investors check stock prices at a brokerage in Fuyang, Anhui province, on Wednesday. The pension funds' allocation to the stock market will be relatively low, according to Lou Jiwei, chairman of the National Council for Social Security Fund. [Photo/China Daily]
NCSSF chairman says body has been entrusted to look after a total of $52b
Pension fund investments will have a relatively low exposure to the stock market to ensure the safety of the funds, the chairman of the National Council for Social Security Fund, Lou Jiwei, said on Wednesday.
He said the NCSSF had signed contracts with seven provinces and cities to manage and invest local pension funds on their behalf.
Pension funds worth a total of 360 billion yuan ($52 billion) have been entrusted to the NCSSF and it has so far received 137 billion yuan on its account, according to Lou.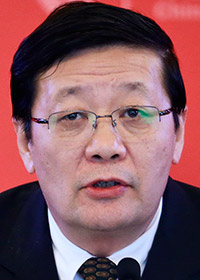 Lou Jiwei, chairman of the National Council for Social Security Fund. [Photo provided to China Daily]
"Given the relatively shorter period of the investment contracts, our tolerance for volatilities will be low and the target for the investment yield will also be lower," Lou told reporters on the sidelines of the closing meeting of the annual session of the National People's Congress.
Lou, a former finance minister, said the investment approach of the local pension funds will be conservative and the fund management will prioritize investment safety rather than targeting high investment yields.
"We are aiming at a 95 percent probability that these funds will not see any loss. Therefore, the funds' allocation to the stock market will be relatively low," Lou said.
In addition to managing pension funds on behalf of local governments, the NCSSF also serves as the national social security reserve fund.
At of the end of last year, the NCSSF managed funds worth more than 1.6 trillion yuan, received from the central government fiscal budget as a national strategic reserve to address the issue of a rapidly aging society.
Entrusting the pension funds to professional investment agencies has been seen as a positive step by the government, to ensure the sustainable growth of the country's pension coverage.
Under the current policy, a maximum of 30 percent of pension funds is allowed to enter the stock market. Previously, pension funds in China could only be invested in low-yield bank deposits and government treasuries.
Zhu Junsheng, a researcher at the Development Research Center of the State Council, said efficient and professional investment would help ease the pressure for payouts of the country's pension funds.
"The basic pension funds are now under greater payment pressures and face the risk of value loss. A market-oriented professional investment will be of great importance to preserve and grow the value of the funds," Zhu said.