Amazon Japan adopts UnionPay to lure Chinese users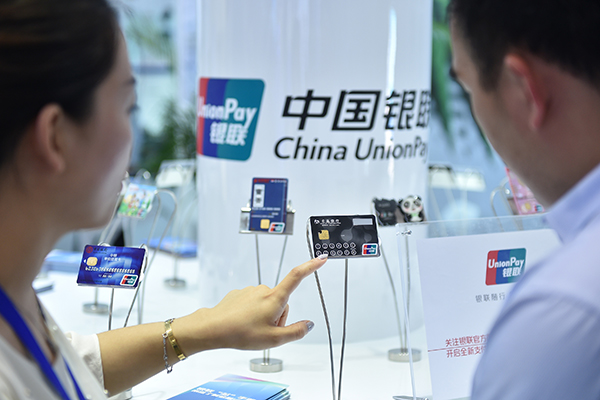 A UnionPay employee introduces new bank card services to a visitor at a show in Beijing. [Photo/Xinhua]
TOKYO-Amazon.com Inc's website in Japan will start accepting UnionPay cards, as the web retailer steps up efforts to sell more merchandise to Chinese shoppers across Asia.
China UnionPay Co, with more than 6 billion cards in circulation, is now a key rival to Visa Inc, Mastercard Inc and other issuers, and has become an important way for retailers around the globe to attract Chinese tourists and consumers.
UnionPay can now be used across Amazon Japan's website, the Seattle-based company said.
Amazon's revenue in the country rose 31 percent to $10.8 billion in 2016.
Amazon Japan is catering to an emerging class of consumers who are willing to shop online within Asia, and offers reduced shipping rates to homes and businesses in China.
The number of Chinese tourists in Japan rose 28 percent last year to 6.4 million.
Other Chinese digital payment companies are also eager to expand overseas.
For example, Ant Financial Services Group's payment tool Alipay was available in more than 70 economies and handled transactions in 18 currencies by the end of 2016.
Alipay also works with more than 40 financial institutions such as BNP Paribas, Barclays and Wirecard, which helps it cover more than 100,000 merchants globally.
BLOOMBERG-CHINA DAILY