New restaurant chain encouraged by economic reform efforts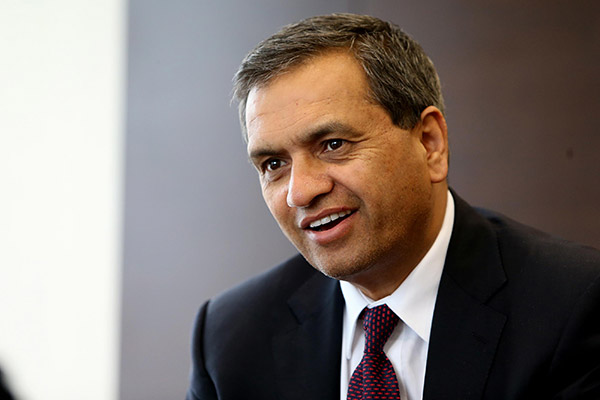 Micky Pant, CEO of Yum China. [Photo provided to China Daily]
Q. What do you think of China's economic growth target of about 6.5 percent this year, amid the sluggish global recovery? What business opportunities do you see coming from sectors that will be opened to wider foreign investment, such as services, manufacturing and mining?
A: We believe the opportunity for growth in China is unrivaled, especially for our business, where we see the emergence of new trade zones and new consumer energy. China remains one of the fastest-growing economies in the world. A new generation of younger consumers, who are digitally sophisticated and brand driven, is fueling growth in consumption in China. The ongoing growth of the middle class and urban population in China is expected to create the world's largest market for restaurant brands, with Yum China poised to be the market leader.
Q. How do you assess the role of the Chinese market in your global business strategy and layout? What are your views on China's efforts and extended preferential policies to further attract foreign investment? Do you plan to increase investment or expand your presence in the Chinese market this year?
A: I have not been in China for very long, but I greatly appreciate the central government's efforts to simplify the administrative procedures, reduce taxation and generally improve the environment for doing business. I met with Vice-Premier Wang Yang in early March and we shared our views on the growth opportunities that exist for international companies in China. The Chinese leaders' openness and eagerness for economic reform has encouraged me very much. We are fully committed to China and confident in our future here. China is our focus, and we are increasing our investment in new stores, innovative menu offerings, digital engagement and delivery to further grow our brands across the country.
Q. This year, China will continue to implement supply-side reform. What does the reform mean for your business, and how will you adjust your business strategy in China to deal with it?
A: Just before the two sessions, I met with Vice-Premier Wang Yang and discussed China's business environment. I was impressed when he told me that China previously focused on attracting capital when introducing foreign investment, but now the government places more value on advanced management systems and quality control. He said he hopes Yum China can continue to share best practices to lead the industry's development in China.
Supply-side reform has the potential to revitalize regions that have been dependent on traditional industry and spur economic growth, both of which are positive for the restaurant sector. We already have restaurants in more than 1,100 cities. We will continue to expand and provide more employment opportunities in China's developing cities and regions.
Q. What is your opinion of China's efforts to upgrade its manufacturing capabilities and promote innovation? Will China's innovation-driven campaign spur the vitality and competitiveness of the economy?
A: The rate of innovation in China is astounding, and in many areas-such as digital engagement and mobile commerce-technology solutions are leapfrogging those in more-mature markets. As our customers are becoming more tech-savvy, we are investing significant resources in digital delivery and customer experience to stay at the forefront of the innovation curve in the restaurant industry.