Companies set for good harvest from growth plan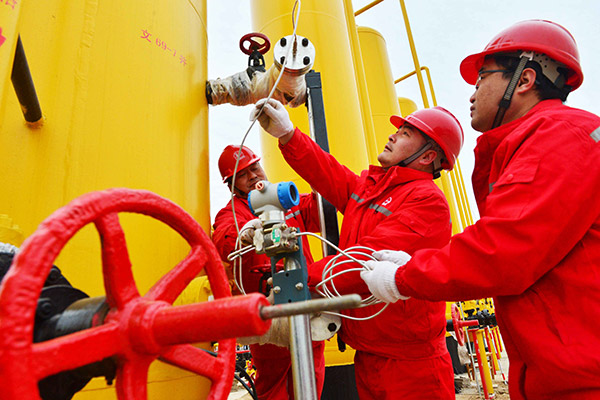 Workers check installations at an oilfield operated by China Petrochemical Corp in Puyang, Henan province. [Photo/China Daily]
Shanghai Composite Index gains 0.8% to reach a three-week high on Monday
State-owned enterprise reform, environmental protection and agricultural sectors, which are listed as major targets for development, are likely to benefit companies with core interests in these areas, analysts said.
According to the Government Work Report delivered at the annual session of the National People's Congress, there will be continued investment to support public infrastructure, benefiting sectors such as transportation, telecommunications and public utilities.
In terms of SOE reforms, China has been rolling out mixed ownership programs in select sectors in various forms, including employee stock ownership plans, divestment of some SOE shares, and mergers and acquisitions, and spinning off of non-core businesses and social welfare functions.
"We expect mixed ownership reform to see more progress, especially in sectors such as power, oil and gas, rail, civil aviation, telecommunications and military-linked industries. In particular, competitive business areas of power and oil and gas sectors are likely to see faster opening-up to private investment," said a research note from UBS China.
Environmental protection, which is highlighted in the report, will benefit not only enterprises which have core interests in directly reducing emissions and improving air and water quality, but will also help drive sales of equipment and facility providers of environment data monitors, said a research note from Guangfa Securities Co.
"Environmental protection is in alignment with reducing excessive capacities, which will influence sectors of steelmaking, coal mining, cement-making and others which have a significant effect on the environment. Reaffirming protection and improving environment will benefit sectors which have stronger capacities to shift fast to a greener model," said a research note from Huatai Securities Co.
Oriental Securities Co said a series financing and fiscal measures and policy-making, will help develop the agricultural sector, particularly those companies with high capacity in research and development of agricultural machines, fertilizer and farming technology.
"It is reaffirmed that the agriculture sector needs to push forward supply-side reform. We expect there will be more detailed policies to be introduced to support innovation in technology and mechanisms to further improve efficiency of the farming industry," said the note.
Meanwhile, the Chinese mainland stock market posted a three-week high in gains on Monday on clear signals from economic growth targets, and positive views over growth.
The benchmark Shanghai Composite Index gained 0.8 percent to 3,237.02 points while the blue-chip CSI 300 Index rose 0.9 percent to 3,458.10.
On Sunday, Li Wei, director of the Development Research Center of the State Council, said the economy has been moving through an "L-shaped" pattern, and is now on the "horizontal" growth side.