E-licenses herald big biz reforms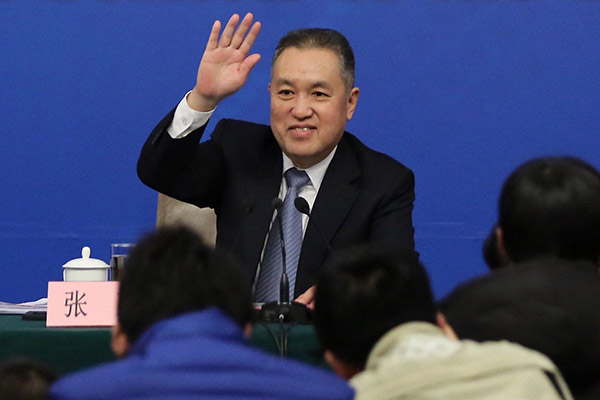 Zhang Mao, head of the State Administration for Industry and Commerce, greets journalists at a press conference on deepening reforms to commerce affairs administration for the fifth session of the 12th National People's Congress in Beijing, capital of China, March 10, 2017. [Photo provided to China Daily]
Experts say steps will ease businesses' market entry and exit costs
In potentially far-reaching business reforms, China will digitalize the registration and licensing of new firms so they could start their businesses quickly; also, the deregistration process will be made quicker, simpler and cost-effective, the State Administration for Industry and Commerce said on Friday.
Zhang Mao, director of the SAIC, told a media conference at the annual meeting of the national legislature that a series of measures will mark the "business system reform".
Zhang said: "We will achieve the goal of digitalizing industrial and commercial registration process, and start issuing electronic business licenses by the end of this year."
As an alternative, conventional business licenses printed on paper will still be issued whenever necessary, he said.
Zhang further said the SAIC will combine multiple licenses into one for companies with several businesses, to facilitate their market entry. This practice will be accomplished before Oct 1 this year, he said.
The SAIC will also expedite the process of deregistration this year.
"Companies that have not started their businesses (even after receiving the necessary licenses) and those without creditor's rights or with heavy debt will be deregistered the fastest. We are also studying the issue of enabling companies with loans to exit (the market) in an appropriate, efficient way," said Zhang.
Experts said the slew of measures will help companies enter and exit the market more conveniently.
This, they said, will further strengthen China's current emphasis on market-oriented economic development.
Liu Zhibiao, a political advisor and an economics professor at Nanjing University, said: "It's commendable that the SAIC has done a lot of work to simplify administration and procedures, and to promote the reform of the business registration system.
"This would help lower the costs associated with entering and exiting markets, thereby making businesses more vibrant.
"Its profound significance is that the government can develop capabilities in important areas and the market can pay a determined role."
Friday's announcements are a big positive for the Chinese economy, he said.
Huang Peng, a partner at Beijing-based Guantao Law Firm, said the measures mark big-ticket reforms in the field of business. "Companies will likely find the new system convenient, which should help them improve their efficiency."
Huang said that companies used to find the existing deregistration procedure laborious and costly. He said he is looking forward to the implementation of the new measures.