CPI sees its slowest pace in two years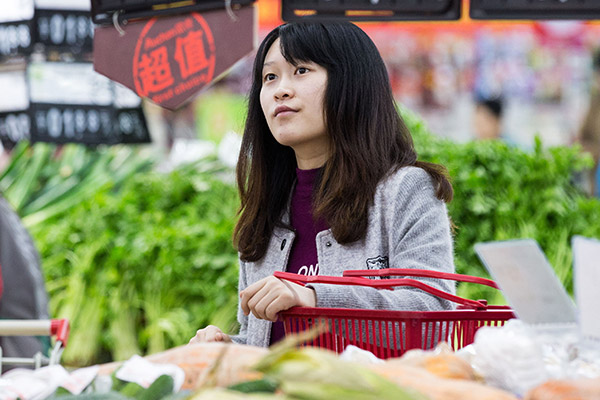 A woman looks at vegetable prices at a supermarket in Nanjing, capital of Jiangsu province. [Photo/China Daily]
Low consumer inflation limits chances of China tightening monetary policy
China's consumer price index, a key gauge of retail inflation, rose 0.8 percent last month, the slowest growth in two years, due to the distortion caused by the timing of the Chinese Lunar New Year.
Analysts said the low consumer inflation reduces the possibility of China tightening its monetary policy and leaves room for policymakers to focus on risk prevention, analysts said.
Ample supply of vegetables and sagging demand for meat and other consumption items after the Lunar New Year holiday led to a "marked drop" in food prices in February, said a statement from the National Bureau of Statistics. Moreover, the high base of calculation last February, in which the Chinese New Year took place, contributed to the low reading last month, the statement said.
Core CPI, which excludes energy and food prices, remains stable, said the bureau.
China's producer prices surged at the fastest pace since 2008 to 7.8 percent, up from 6.9 percent in January, thanks to the low base last February and recent rises in commodity prices, according to a research note from China International Capital Corporation.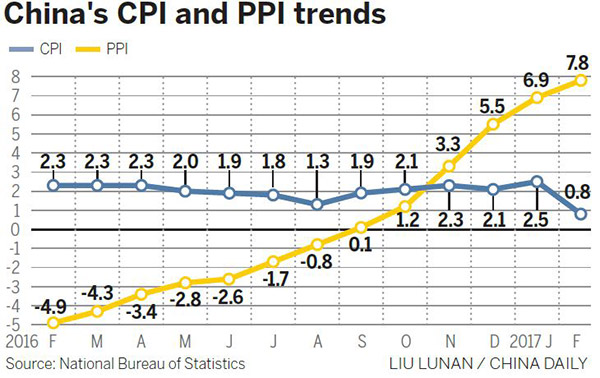 In the coming two months, CPI may remain low due to high comparison bases, said Liu Dongliang, a senior analyst at China Merchants Securities. Producer prices may stabilize and even fall in the coming months due to a possible weakening in commodity prices, he said.
"The low CPI reading in February reduces pressure on the central bank to take measures to combat inflation and the possibility of China's monetary policy being tightened further declines," he said, adding that monetary policymakers will focus on deleveraging and prevention of financial risks as consumer inflation stabilizes.
CICC said while the consumer price index may rise mildly after February, producer prices may remain at high levels in the coming months and even hit new highs given rising prices in the midstream and downstream industries.
In another development, China's new loans fell sharply in February from near-record levels in January but were still higher than general market expectations. Banks made 1.17 trillion yuan ($169 billion) in new loans in February, down from 2.03 trillion yuan in January, according to the People's Bank of China, the central bank, on Thursday.
Chinese banks usually extend more loans in the first half of the year to compete for market shares and prevent regulators from limiting lending in the second half if they are deemed to have lent too much for the economy.