Skills shortage to hit Chinese companies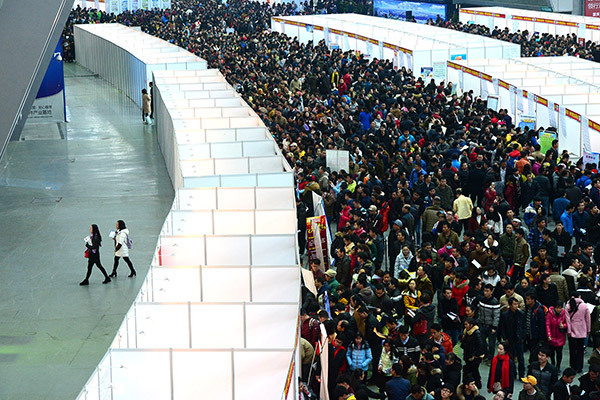 Tens of thousands of jobseekers attend a job fair offering 3,000 jobs in Liuzhou, the Guangxi Zhuang autonomous region. [Photo/Xinhua]
The sudden resignation of Chen Xiangli, former president of the GE Technology Center in China, announced at the beginning of this year, raised concerns over the talent pool of research professionals in China.
Having served GE for 16 years, Chen applied to the company's global headquarters to set up the China technology center in 2000.
As the founder of the GE Technology Center in China, Chen left the company without giving any explanation or notice.
Worse, following Chen's resignation, a number of researchers, especially scientists, specializing in fundamental studies, are expected to resign, seek transfer to other posts, or go back to the United States.
Chen said at a public conference last year that a large number of multinational companies' research centers in China are in a dilemma. These centers have not been allowed to operate fully in spite of China vigorously calling for innovation.
He said: "Companies such as GE, Siemens and Honeywell have very mature research and development systems. They have accumulated this experience for a century or even longer. China needs this accumulated knowledge greatly."
Sun Chao, partner at consulting firm Strategy & Greater China, said that the higher costs of hiring mid- to high-level management talent have resulted in the fact that multinational companies hardly set up their core research sectors in China.
On the other hand, the shortage of the right research staff has been a real problem for most companies in China.
According to a survey by global talent recruiter Hays, 97 percent of 1,200 Chinese employers polled said they are "struggling to find the skilled individuals and the situation is worse than ever".
They are worried that the deteriorating skill shortage will severely affect their operations this year.
Simon Lance, managing director of Hays in China, said: "Chinese companies are looking for opportunities to work with top engineering universities all over the world, so that those future graduates will enter their talent pool. Chinese entrepreneurs have come to a consensus that big data, artificial intelligence, speech recognition and natural language processing are the key areas awaiting further exploitation.
"But the talent shortage they are faced with now has forced them to look for talent all over the world," Lance said.
In the automotive sector, for example, the shortage of research talent is the most serious problem, according to Rio Goh, managing director of international employment agency Morgan McKinley in China.
Although local talent is preferred for most of the time as it is comparatively cheaper, when it comes to key development areas, such as connected vehicles and advanced driver assistance systems, overseas technology experts from Germany and North America are always hired to provide their industry know-how.
The central government has noticed the talent gap. The Ministry of Education, the Ministry of Human Resources and Social Security and the Ministry of Industry and Information Technology launched a guideline in mid-February that focuses on training and talent development in the manufacturing industry.
Seven important tasks were listed in the guideline, such as speeding up the integration of industry with education, promoting key abilities and qualities that are adaptive to advanced manufacturing industry, and establishing a high-level management skills pool.