'Realistic' growth target set at about 6.5 percent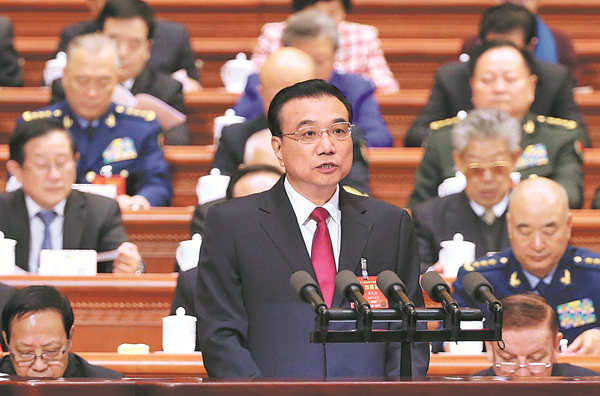 Premier Li Keqiang delivers the Government Work Report during the opening session of the NPC on Sunday. XU JINGXING/ CHINA DAILY
Premier says govt aims to create 11 million jobs, keep urban unemployment below 4.5%
Premier Li Keqiang said on Sunday that China is setting a "realistic" economic growth target of "around 6.5 percent" of GDP, while the nation will "try to achieve better results".
Li, who delivered the annual Government Work Report on Sunday, said the new target is "in keeping with economic principles". The report came at the opening of the fifth plenary session of the 12th National People's Congress, the country's top legislature.
Analysts said the goal is achievable thanks to expected new economic driving forces resulting from restructuring and reform measures.
The country also will work to create 11 million new jobs this year and keep its registered unemployment rate below 4.5 percent in urban areas, the report said.
It will keep its measuring stick for consumer inflation, the consumer price index, rising at about 3 percent this year, Li said.
Chi Fulin, president of the China Institute for Reform and Development, called the GDP growth target "down to earth".
"China is capable of achieving that goal and, more importantly, it allows room for making progress in restructuring and reform, which will lay a solid foundation for development in the coming years."
Last year, China's growth target was 6.5 to 7 percent, and the nation ultimately achieved 6.7 percent growth.
Speaking about this year's number, Liang Haiming, chief economist of China Silk Road iValley Research Institute, said, "I'm optimistic that China will achieve that target."
China's expected reform measures this year, such as the supply-side structural reform, will boost innovation and provide new driving forces for growth, Liang said, adding that local governments and enterprises are expected to increase investment to boost growth.
Li said China's prescription for economic progress will encourage consumption and channel capital into fields that can help "bolster the weak spots, restructure the economy, promote innovation and improve people's livelihood", strengthening transportation, water conservancy, civil aviation and telecommunications projects.
According to the Government Work Report, China will cut 50 million tons of steel production capacity, reduce 150 million tons of coal production capacity, and eliminate or postpone the building of 50 million kilowatts of coal-fired power generation capacity this year.
"The capacity reduction targets are very clear and are a step toward further implementing supply-side structural reform," said Li Zuojun, an economist at the State Council's Development Research Center.
The Government Work Report also said that the country will press ahead with reducing real estate stocks and using deleveraging initiatives to pare debt. These goals will be accomplished through adopting locally appropriate methods in regulating real estate markets and cutting the debt levels of enterprises. Policymakers will also cut taxes and fees to benefit the corporate sector.
China will continue to reform its fiscal and financial systems, accelerate reform of State-owned enterprises, and strengthen protection of property rights, the premier said.
The country also has set a fiscal deficit target for this year at 3 percent of GDP, or 2.38 trillion yuan ($345.5 billion), 200 billion yuan more than last year. The growth rates of M2, which is the broad measure of money supply, and social financing will be kept at about 12 percent this year, the work report said. Last year, China's M2 growth was 11.3 percent, falling short of its preset target of 13 percent.
Contact the writers at xinzhiming@chinadaily.com.cn