China's corporate sector wins big as economy improves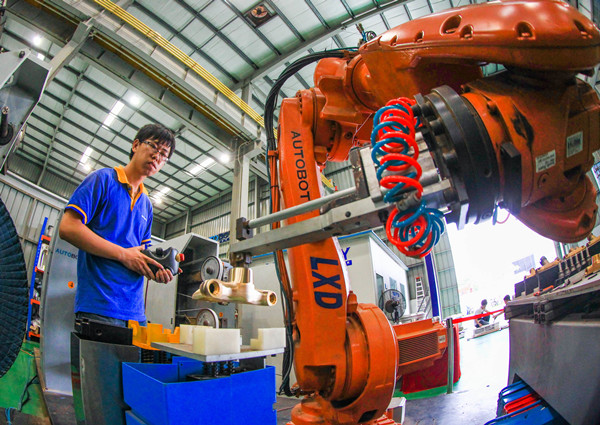 A worker assembles a robotic arm at a factory in Foshan, Guangdong province. [Provided to China Daily]
BEIJING - Chinese e-commerce giant JD.com made headlines on Thursday after reporting impressive financial performance in 2016.
One of the country's leading e-commerce platforms, JD.com raked in 1 billion yuan ($14.5 million) in net profits last year, compared with a heavy loss in 2015, according to the company's financial statement.
Rising profits from the company's online shopping mall and increasing transaction volume were the main contributors to the platform's improved earnings, with gross transaction volume rising by 47 percent year on year, according to the financial statement.
The robust growth means that Chinese consumers are looking for more high-quality products and services, said Richard Liu, CEO of JD.com.
China has the world's largest e-commerce market, and online retail sales rose 26.2 percent to hit 5.2 trillion yuan in 2016.
Small-and-medium enterprises (SMEs) also earned more compared with 2015.
Companies listed on the Shenzhen SME board pocketed about 220.4 billion yuan in profit, up by about 37 percent year on year.
Among them was SF Express, one of Chinese leading delivery firms, which saw its net profits more than double in 2016 thanks to booming delivery demand.
The total number of packages delivered increased 51.4 percent year on year in 2016 to more than 31 billion.
Meanwhile, start-ups listed on China's NASDAQ-style ChiNext board witnessed their fastest profit growth in nearly five years of 38.15 percent.
Their focus on innovation helped improve corporate financial performance, according to a statement released by the Shenzhen Stock Exchange.
The computer, software and IT services, and pharmaceutical sectors were among the best performers in terms of profit growth last year, it added.
On the other hand, China's State-owned enterprises are also catching up with their private counterparts.
The country's industrial SOEs turned from losses for two consecutive years to profit in 2016 with overall profit growth of 6.7 percent, the fastest pace since 2012.
"That reflects that reform efforts in destocking, deleveraging and reducing costs are paying off," said Li Jin, deputy head with China Enterprise Reform and Development Society.
Led by electronics, electrical machinery and medicine, the manufacturing sector gained the most compared with SOEs in coal, electricity and other energy sectors.
China's economic structure is changing with rapid growth of advanced manufacturing and the service sector, consolidating the steady expansion of the world's second-largest economy, said Shen Ying, chief accountant of the country's top SOE regulator.
Total profits of centrally owned enterprises continued the momentum by growing 24.5 percent year on year in January.
Latest signs show that the Chinese economy is firming up, with both the official and private factory activity index posting steady growth.
Corporate profits, cargo volume and machinery sales are all sensitive to market changes and are more difficult to whitewash as indicators of economic expansion, said Shen Jianguang, chief economist with Mizuho Securities Asia Limited.
Rail freight volume rose for the sixth month in January while sales of excavators rose more than 50 percent year on year in January despite the Spring Festival holiday during the month.
These impressive micro indicators point to stronger-than-expected economic recovery, Shen added.