Insurers' holdings hit hard by penalties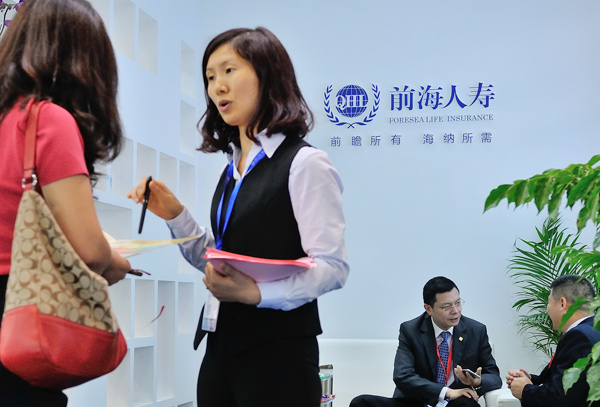 A visitor seeks information at a Foresea Life Insurance Co Ltd stand at a financial exhibition in Guangzhou, Guangdong province. CHEN YIHANG / FOR CHINA DAILY
Stocks held by Evergrande and Foresea decline after firms punished by CIRC
Stocks held by Foresea Life Insurance Co Ltd and Evergrande Life Insurance Co Ltd tumbled on Monday after the two insurers received harsh penalties for violation of investment regulations.
Shenzhen-listed glass manufacturer CSG Holdings Co Ltd, of which Foresea Life holds a 22 percent stake, fell by 4 percent. Shanghai-listed Langfang Development Co Ltd, of which Evergrande Life's parent company China Evergrande Group is the second largest shareholder, slumped by nearly 7 percent.
The selling was triggered by investors' fears that the penalty imposed by the regulator to limit the stock investment by the insurers will depress stock prices.
The two insurers are in the spotlight for their aggressive and high-profile purchase of a string of listed companies including China Vanke Co, the country's leading residential real estate developer, resulting in a corporate crisis and power struggles within the targeted companies.
On Friday, the China Insurance Regulatory Commission barred business tycoon Yao Zhenhua, chairman of Baoneng Group and Foresea Life, from the insurance industry for 10 years. The regulator also revoked Yao's qualification as chairman of the insurer.
Similarly, Evergrande Life, the insurance unit of real estate developer China Evergrande Group owned by billionaire Hui Ka Yan was banned from stock investments for one year. The regulator also lowered the maximum percent equity holdings at 20 percent of assets from 30 percent.
Gao Ting, head of China strategy at UBS Securities, said that the tougher stance by the regulator will lead to fewer cases of insurers aggressively buying listed companies' stakes on the secondary market this year.
"Insurers may prefer stocks that conform with the value investment philosophy, with underestimated book value and steady revenue," Gao said in a research note.
Xiang Junbo, chairman of the CIRC, last week urged insurers to stick to long-term investments and vowed to punish those that engaged in speculative trading.
Cheng Jiaoyi, an analyst at Zhongtai Securities Co, said that the tighter regulatory scrutiny on insurers' investment is likely to lure more long-term capital into the stock market.
"The regulator's emphasis on value-based investment by insurers will reduce the reckless investment and will reinforce the role of insurers as the prudent institutional investors in the stock market," Cheng said.