Aircraft leasing firms take off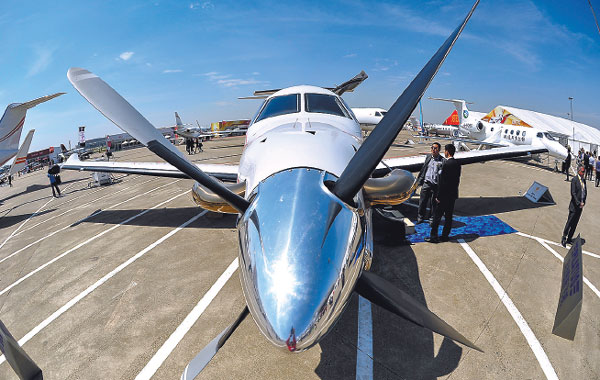 Smaller aircraft on display at an aviation expo in Shanghai. [Photo/Xinhua]
Companies' moves on back of consolidation in the trillion-dollar industry
Chinese aircraft leasing firms are becoming game changers in the trillion-dollar industry as it consolidates on the back of growth in the global travel market.
In October, China-owned Avolon Holdings Limited agreed to buy the aircraft-leasing business of CIT Group for $10 billion in a deal that will create the world's third-biggest rental fleet.
Avolon, a Dublin-based lessor, is wholly owned by China's Bohai Capital Holding Co. It became a Bohai subsidiary through a $2.6 billion acquiring deal in 2015.
Meanwhile, Awas, another Ireland-based lessor that is owned by private equity firm Terra Firma, attracted the attention of Chinese bidders, including ICBC Leasing, Avic Capital and CK Hutchison Holdings, according to industry insiders quoted by the South China Morning Post.
"The aviation industry is entering a period of consolidation and if Chinese firms hope to further grow their size, then some players currently ranked between number five and 25 must be willing to sell," said Peter Carroll, a Dublin-based partner at BDO, an accountancy and advisory company.
The sector, which specializes in purchasing aircraft that are then rented out to airlines, has become hugely popular in recent decades as airlines have struggled to maintain large enough in-house fleets to keep up with demand. The numbers of leased aircraft have grown steadily, from 2 percent of the global aircraft fleet in 1980 to about 40 percent in 2014.
Within this context, Chinese aviation leasing companies have expanded ambitiously, especially in Dublin, a city that manages more than 5,000 commercial aircraft, worth in excess of $130 billion, which is half of all leased planes worldwide.
The city's low tax regime, generous capital allowances and vast network of double-taxation treaties have all contributed toward the growth of the hub.
During the past five years, the leasing arms of large Chinese banks, including Industrial and Commercial Bank of China, Bank of Communication, Bank of China, and China Development Bank, have all established European headquarters in Dublin.
Despite being newcomers, Chinese leasing companies' access to capital, thanks to their typical shareholders being large State-owned banks and insurance firms, gives them an advantage, said Duncan Batchelor, a partner at law firm Norton Rose Fulbright. He said scale matters in the industry.
Brian Daly, a partner at KPMG, said Chinese companies' expansion into Dublin is linked to the fact that they are increasingly leasing aircraft to non-Chinese airlines, a trend that started in the last six-seven years.
The demand for leased aircraft is likely to grow. According to estimates from Boeing, airlines in Asia will be flying more than 16,000 planes within 20 years, almost three times the current number.
But there are risks. Protectionism tendencies exhibited by the new US government and Brexit could potentially impact air travel, reducing demand for aircraft.