Chongqing aims to be a pivot in effort to boost western region's development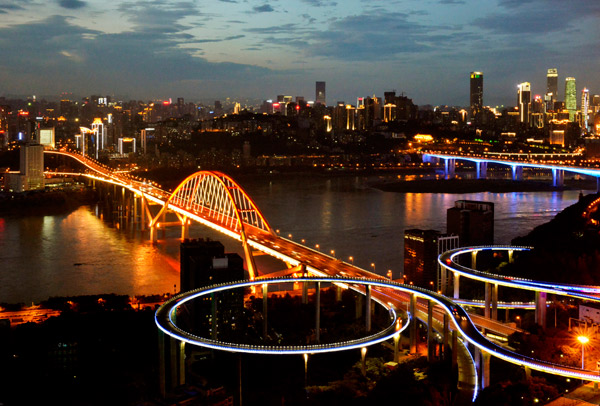 Night view of Caiyuanba Yangtze River Bridge in Chongqing, Southwest China, August 3, 2016. [Photo/VCG]
As the latest addition to China's Free Trade Zone project, Chongqing will focus on policy innovation to become a pivot in the country's Go-West campaign-the national effort to develop the vast western regions, home to energy and mineral resources crucial to its future growth-according to its FTZ development blueprint.
As the only municipality in western China directly under the central government, the traditional industrial hub-located at the intersection of the Belt and Road Initiative's trade route and the Yangtze River Economic Zone-has witnessed fast and steady economic growth in recent years and led the country's GDP growth rate table for two consecutive years in 2014 and 2015.
In 2016, its auto and electronics industries contributed to over half of the city's industrial growth, according to the latest figures from the government.
Chongqing is the country's biggest automobile manufacturing base, producing 3.16 million cars last year. It also made 58 million laptops in 2016, accounting for one third of the worlds' total.
Last year, the city was picked as the operational center of the China-Singapore (Chongqing) Demonstration Initiative on Strategic Connectivity, the third intergovernmental project between the two countries. The initiative will pilot cooperation in fields ranging from financial services, aviation, transportation and logistics to information communications technology.
As a result, the central government is requiring the city's FTZ to play a vital role in the opening up and development of inland China.
Under the Chongqing development blueprint its FTZ, spanning 120 square kilometers, comprises three parts-Liangjiang New Area, Chongqing Logistics City and Chongqing Microelectronics Park.
According to the FTZ blueprint, Chongqing will build itself into a pilot zone of inland free trade featuring a convenient investment and trade environment, efficient supervision, complete finance services as well as a sound legal environment for business.
Based on plans for the Chongqing-Xinjiang-Europe intercontinental railway, it will become the center of international logistics, inland services trade and inland finance.
"We see the FTZ as principally a logistics and commodities-driven government reform, which is expected to evolve to encompass the whole range of financial and professional services, and beyond," said Du Guoyu, chief representative of the China-Britain Business Council in Chongqing.
"The Chongqing FTZ will first influence companies which currently do not have a presence in the country and are planning their entry. Secondly, it will become an incentive for current UK business when considering restructuring and relocation," Du added.
Zhang Xu, deputy head of Chongqing Automobiles and Motorbikes Association, said the FTZ could help Chongqing manufacturers build an international trade system.