Common values lead the way on Belt and Road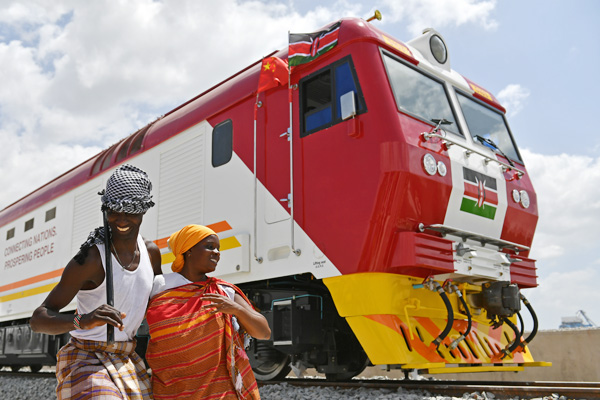 Locals stand beside a China-made locomotive at Port Reitz in Mombasa, Kenya. [Photo/Xinhua]
Unified arbitration mechanism is needed for legal issues due to diverse cultures
This should be the beginning of a busy year for Wang Guiguo. This year he wants his idea of building a modern legal structure for China's new-age Silk Road initiatives to come to pass.
Wang, who is the president of the Hong Kong-based International Academy of the Belt and Road, and is a professor of international law in Beijing, Hangzhou and New Orleans in the United States, published a book in October-about the dispute resolution mechanism for the new Silk Road initiatives proposed and led by China.
The new Silk Road project, which cover both the Silk Road Economic Belt and the 21st Century Maritime Silk Road, is called the Belt and Road Initiative.
This year, beginning with US President Donald Trump withdrawing the US from the 12-nation trade deal Trans-Pacific Partnership, the need is becoming more acute, Wang said, for China to work with other countries to structure their own free trade systems and related legal mechanisms.
"In fact, how to build a fair, all-round and workable dispute resolution system for international trade and investment is a common task for governments and legal professionals," Wang said.
Whether or not the US or any other country stays in or leaves a free trade pact won't affect the need, he said.
"Globalization is not going to stop," Wang said.
That is also why ideas such as international dispute settlement and international dispute tribunals are more often heard from judicial forums in Europe, he said.
Since 2013, after the Belt and Road Initiative was proposed by President Xi Jinping, China has signed partnership agreements with some 40 countries in the world.
Overall, the Belt and Road Initiative covers 60 percent of the world population and one-third of the global GDP (around $2 trillion). For the past decade or so, it has shown the fastest growth of all regions.
Owing to their diverse legal systems and practices, the implementation of the Belt and Road-related agreements will inevitably give rise to many issues in the governing of trade and cross-border investment, Wang said.