Victoria's gets closer to Chinese women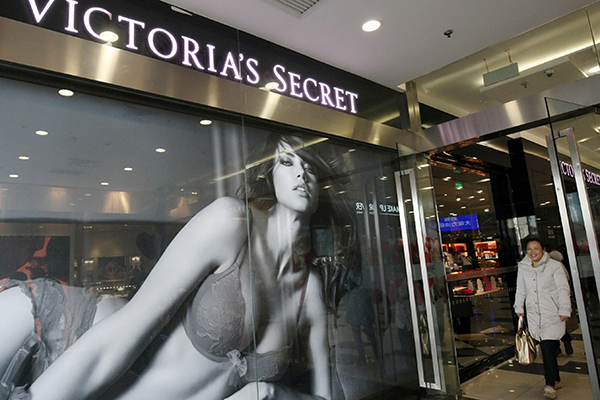 A Victoria's Secret advertisement at a department store in Shanghai. [Photo provided to China Daily]
US lingerie giant Victoria's Secret is opening its first full assortment stores in China. Two stores will open initially, one in Shanghai and the other in Chengdu.
Both stores will be opened during the first quarter of 2017, said its parent company L Brands in a news release on Friday.
Utmost secrecy shrouds details of Victoria's Secret's first store in Shanghai to be opened in less than two weeks. But officials from the city's Huangpu district, where the store will be located, are thrilled to bits already.
They expect what is, arguably, the world's sexiest brand to create a stir in the local market, helping boost all commercial establishments in the district, whose business has been sluggish of late.
"Victoria's Secret store, together with some other new commercial projects to be launched this year, will reinvigorate the commerce environment of Huaihai Road and help it to restore its former glory," said Chen Yong, director of the Commission of Commerce for Huangpu district, at a media briefing on Thursday.
For decades, Huaihai Road had been labeled the Fifth Avenue or the Champs-Elysees of Shanghai. With the rise of e-commerce, however, several malls and boutique stores had to shutter or were left vacant in recent years.
Last September, Pacific Department Store, one of the most iconic and historical traditional stores along the road, just a block away from the upcoming Victoria's Secret store, was closed.
According to Chen, the lingerie store's opening will likely create a splash as the brand's celebrated models, known as "the angels", are to be flown in to Shanghai. And the reputed Victoria's Secret Annual Show is also likely to take place in the city.
In an email to China Daily, a company spokesperson confirmed the district officials' take on the store opening, but said "we have not announced an opening date".
The Ohio-based lingerie brand has been operating 20 "concept stores" in mainland cities, selling only accessories and beauty products. In March 2016, it announced an expansion in the China market with plans to sell its core lingerie collections.
According to Euromonitor International, China's retail market for women's underwear has seen a compound annual growth rate of 9.7 percent from 2011 to 2016, reaching 139 billion yuan ($20.1 billion) in 2016.
Wu Yiyao contributed to the story.