IATA bullish on China aviation market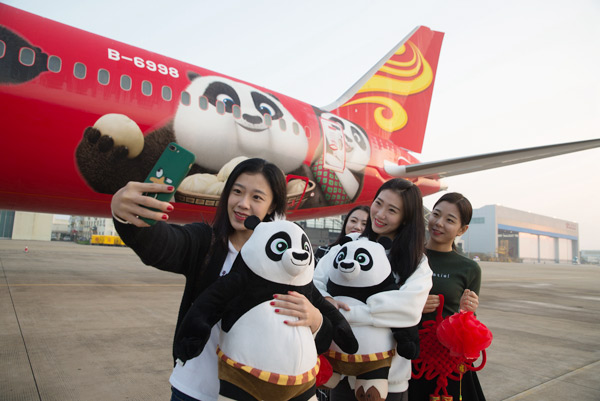 Passengers take selfies in front of a Hainan Airlines' plane after a panda-themed flight from Haikou to Beijing in late January. [Photo provided to China Daily]
The International Air Transport Association said on Friday that it is bullish on the growth potential of China's aviation market and believed the new airport in Beijing, which will start operations in 2019, would ensure sufficient airport capacity to meet expected traffic growth.
By 2024, China will overtake the United States as the world's biggest passenger market, and in 2035, China will be a market of 1.3 billion passengers, forecast the Montreal-based trade association of the world's airlines.
"China's aviation development is impressive," said Alexandre de Juniac, the newly-appointed director general and CEO of the IATA.
"Today, Chinese airlines and airports rank among the top 10 by passenger numbers," de Juniac told a news conference in Beijing on Friday.
Meanwhile, the on-time performance of Chinese airlines was 76.48 percent between January and November last year, a 9 percentage point improvement over the same period the previous year, according to the Civil Aviation Administration of China.
"I recognize the authorities have taken steps to improve the situation," de Juniac said.
"Still more needs to be done to address the delay situation. That includes a restructuring of the air route network and closer civil and military air traffic control cooperation to allow rerouting flexibility, especially during bad weather," de Juniac added.
The IATA said the northern Asian region, including China, had the lowest accident rate for the first half year of 2016 and the lowest five-year average between 2011 and 2015.
In 2016, the global airline industry's profits reached $35.6 billion with a net profit margin of 5.1 percent, the highest-ever absolute profit generated by the sector and the highest net profit margin.
This year, with expected rising oil prices, the IATA forecast the global airline industry will make a net profit of $29.8 billion, with a 4.1 percent net profit margin.
"Airlines continue to deliver strong results. Even though the conditions in 2017 will be more difficult with rising oil prices, we see the industry earning $29.8 billion," the IATA chief said.
"That's a very soft landing which is safely in profitable territory. These last three years were the best performance in the industry's history - irrespective of the many uncertainties we face," he said.