CSIC may call timeout on equities injection plan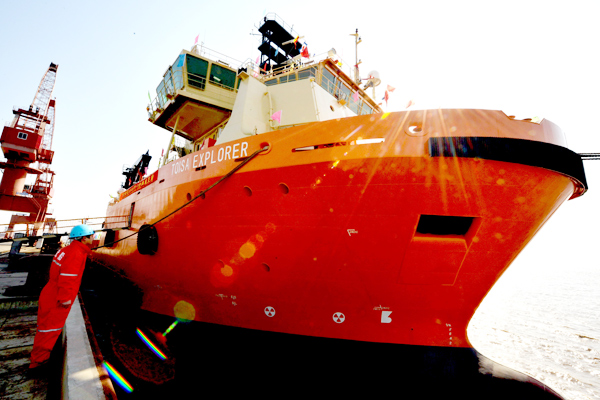 The handover of a ship built by Wuchang Shipbuilding Industry Group Co Ltd to a Greek company takes place in Nantong, Jiangsu province. [Photo/Xinhua]
State-owned company's shares fall by 2.78 percent on the announcement
State-owned China Shipbuilding Industry Corporation has announced it may end a commitment to allow six other companies to inject their shares into the company as promised in 2010.
When the CSIC announced the news, the stock price of the limited company dropped by 2.78 percent, closing at 7.69 yuan ($1.1) on Wednesday.
CSIC is the controlling shareholder of the company with 65 percent of shares. It promised to six other shipbuilding-related companies that they could inject shares to avoid competition during a major asset restriction in 2010.
But, according to the document signed by the independent directors of CSIC, the companies did not have business overlapping with CSIC anymore, so there would not be competition to avoid.
According to 2016's civil-military integration report, integration has been making smooth progress and has achieved quite a few in the past years. The 13th Five-Year Plan (2016-20) has listed around 40 civil-military integration programs.
Li Xin, an analyst from Avic Securities, said: "The plan to reform the Chinese shipping industry includes a number of outstanding enterprises. In the shipbuilding and repairing sector, the strongest ones include China State Shipping Corp and CSIC. The integration will lift the industry, and in the next three to five years, a market of a trillion yuan will merge."
The deepening integration of the civilian and military industrial entities has not only brought vitality into China's State-owned defense sector, but also has increased opportunities for enterprises that are looking to penetrate into the military sector.
Two companies, Tianjin Xingang Shipbuilding Heavy Industry and Chongqing Chuandong Shipbuilding Heavy Industry, still have a common interest in CSIC. These two companies have yet to meet the conditions to join the limited company.
Xu He contributed to this story.