US economic uncertainty 'may hit stocks'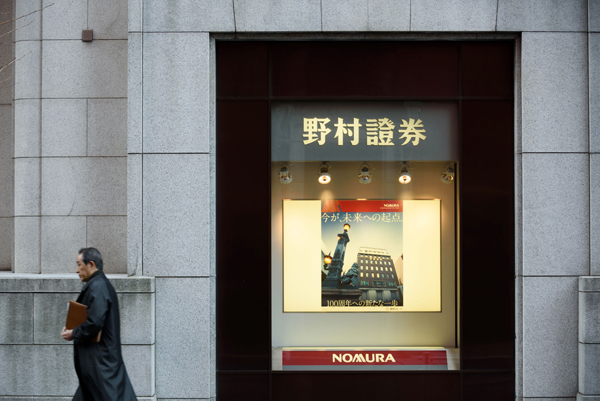 A man walks past the headquarters of Nomura Securities Co, a unit of Nomura Holdings Inc, in Tokyo. [Photo / Agencies]
The Chinese stock market could face downside risks if external factors such as the ambitious economic package and tax reforms under US President Donald Trump's administration to boost the US economy fail to materialize, analysts said on Monday.
Shigeki Sakaki, chief strategist of investment and research division at Nomura Asset Management, warned that the uncertainty over Trump's economic policy is the risk that investors should watch out for in 2017.
In an interview with China Daily in Beijing, Sakaki said: "If the measures taken by Trump do not materialize, market participants may be concerned that a higher inflation rate could weaken US economic growth and they may respond negatively. The Chinese market will perform well if the US market remains relatively robust."
But he warned that any deterioration of the US economic condition could weigh on investors' sentiment in the Asian markets including the A-share market.
China's fast credit expansion in the past few years and the potential asset bubbles will be a source of risk for the Chinese economy this year, Sakaki said.
"The growing debt suggests that this credit cycle may not be sustainable and some adjustments may be needed," he said, adding that coordination between the monetary and fiscal policies by the Chinese authorities will be needed to address the problem.
The People's Bank of China has moved to raise credit costs and tighten credit supply in the interbank market to push for financial deleveraging and to curb risks.
Gao Ting, head of China strategy at UBS Securities, said that the ongoing financial deleveraging and further regulatory tightening could affect investor risk appetite, causing headwinds for A-shares.
The Chinese stock market has been propelled higher as sentiment toward the outlook of the Chinese economy has turned positive with better-than-expected trade data in January and the expectation for Trump's tax plan to boost the US economy.
Lukman Otunuga, a research analyst at FXTM Ltd, an online currency trader, said: "If this pattern of stabilizing economic domestic data and optimism over global growth persists, then the Shanghai Composite Index could be elevated further in the shorter term."