Shanghai puts silver lining on Disney cloud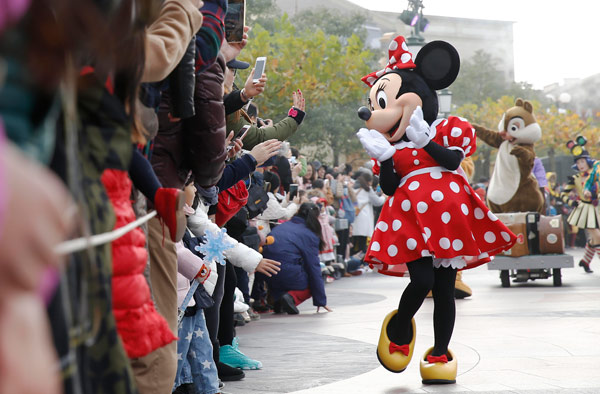 Disney cartoon characters interact with visitors at the Shanghai Disney Resort. YIN LIQIN / FOR CHINA DAILY
US-based entertainment giant pins hopes on China theme parks
The hectic traffic at the Shanghai Disney Resort was among the few bright spots to partially offset the earnings drop suffered by The Walt Disney Co, which posted slack first-quarter revenue dragged by its cable businesses at home.
Among the four pillar businesses of the entertainment conglomerate, Parks and Resorts was the only segment that saw both revenue and operating income expand, by 6 percent and 13 percent, respectively, the California-headquartered company said.
Operating income for Media Networks, Walt Disney's largest segment, posted a 4 percent decline from a year earlier, citing higher programming costs and lower advertising revenue at cable service ESPN.
Chief Executive Officer Bob Iger attributed the Parks and Resorts segment's encouraging sales to the opening of the Shanghai park, which has received more than 7 million visitors since its opening in June.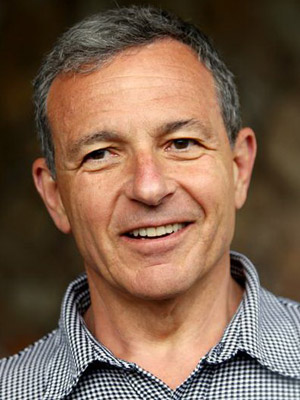 Bob Iger, CEO of The Walt Disney Co [Photo provided to China Daily]
"The Shanghai Disney Resort is off to a strong start. We're thrilled with this performance, and it could potentially exceed 10 million in total attendance by the resort's first anniversary," Iger said.
The Shanghai Disney Resort, which includes a theme park, two themed-hotels and a Broadway-style theater, among other settings, created a special lineup of festive activities during its first Chinese Lunar New Year celebration.
With Disney cartoon figures dressing up in traditional Chinese costumes, the park welcomed visitors with a variety of entertainment programs, seasonal food and beverage offerings, and lucky bags.
"Operating at maximum capacity for virtually the entire holiday period, the huge attendance during Chinese New Year adds to our confidence in the resort's ability to reach break-even in this fiscal year," Iger said.
Walt Disney is the world's top theme-park group, with its attractions welcoming 137 million visitors globally in 2015, according to the Themed Entertainment Association.
There is still room for development for the Shanghai resort, as similar Disney parks in California and Tokyo drew 18.3 million and 16.6 million visitors in 2015, the organization said.
"China's expanding middle class means that there are likely to be opportunities for growth at Shanghai Disney," said Qi Xiaozhai, a senior consultant at the Shanghai Municipal Commission of Commerce.
Walt Disney posted fiscal first-quarter earnings per share of $1.55 on $14.78 billion in revenue.