China-Russia rail bridge on right track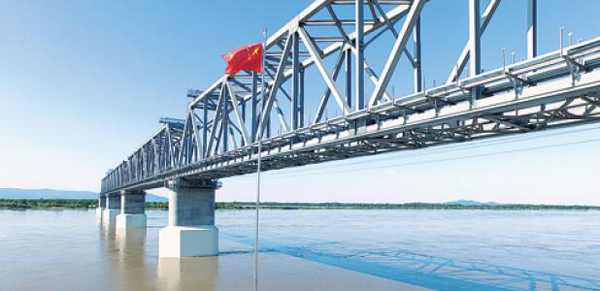 The incomplete China-Russia Tongjiang Rail Bridge. [Photo provided to China Daily]
Key trade link receives shot in the arm from $110m funding package
The construction of a cross-border rail bridge between China and Russia has moved a step closer to completion because the project's funding gap has been covered, government officials said on Monday.
With a total investment of 2.6 billion yuan ($379 million), the bridge will connect Tongjiang in China's northeastern Heilongjiang province with Nizhneleninskoye in Russia's Jewish Autonomous Oblast.
Known as the Amur International Rail Bridge or the China-Russia Tongjiang Rail Bridge, once completed it will be the first of its kind between the two countries and will serve as the key transportation link that is expected to boost bilateral trade previously constrained by the region's poor transport infrastructure.
The latest round of financing worth $110 million came from a Sino-Russian joint venture backed by China Investment Corp, the Chinese sovereign wealth fund, according to the local government.
"It means that the financing problem from the Russian side has finally been solved," said Zhang Ruohui, an official from the Commerce Department of Heilongjiang province.
Construction of the bridge started in 2014, but it came to a halt due to the funding problem and construction delays by the Russian side.
Wang Jin, the mayor of Tongjiang, said that the bridge will help boost the city's standing as a transportation hub with Russia, and will enhance its role in the China-Mongolia-Russia economic corridor.
"The bridge will help unleash the potential of Tongjiang as a key transportation hub in the region," Wang said.
The bridge is also expected to help boost China's trade with Russia and significantly reduce transportation costs. Bilateral trade between China and Russia stood at $69 billion last year, according to official data.
The bridge will also help boost the economy of Heilongjiang, Wang added.
Xu Tao, a Central Asia studies researcher at the China Institutes of Contemporary International Relations, said the long and difficult process of the bridge project showed there may still be many difficulties for China and Russia to overcome in their future partnership to jointly develop the Far East region.
"Securing funds has long been a hurdle. Insufficient mutual trust and Russian doubts over China's intention to develop the region have been another source of uncertainty for Sino-Russian cooperation," Xu said.