Editor Note: As the G20 global leaders gather in Hangzhou, capital of China's Zhejiang province, exploring the solutions for a robust and sustained global economic growth and fairer international governance regime, European opinion leaders and academic experts have kept a close watch on what messages President Xi Jinping is delivering at the first ever G20 gathering organized by China. The following are the points they shared with China Daily journalist Fu Jing based in Brussels.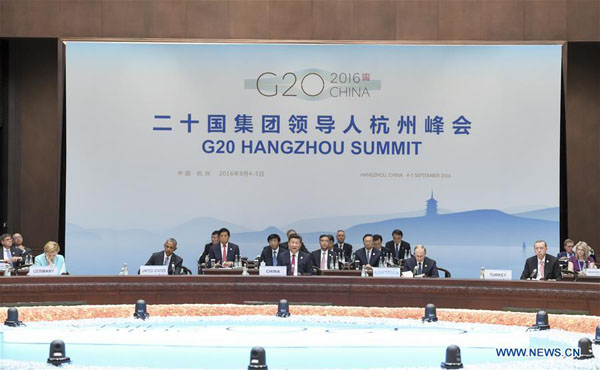 Chinese President Xi Jinping presides over the opening ceremony of the Group of 20 (G20) summit in Hangzhou, capital of East China's Zhejiang Province, Sept. 4, 2016. [Photo/Xinhua] 
Christos Vlachos, managing partner of Athens-based Silky Finance, an independent financial adviser
I am impressed by President Xi's call: "We should strengthen coordination in macro-economic policies, reduce negative impacts and resolve the imbalance in systems and differences in standards. We should also increase investment in infrastructure to ensure all parties could be beneficiaries of global growth."
And I think what President Xi stressed goes in tandem with the Belt and Road initiative dating back to 2013.
Boudewijn Poldermans: Connect Global Capital Business, a Rotterdam-based Consultancy, which has a strong and extensive business relationship with China
During his speech President Xi has stressed the importance of the link between business and social development and how China has realized rapid poverty reduction. He has indicated how China has developed from an aid recipient country into the world's second largest economy now able to assist other economies by making financial resources available. Xi stressed the need for more concrete steps and a sustainable, open and equitable approach to achieve more long term global economic growth and develop "win-win" strategies. The world is now looking at China to see what leadership role China will assume in the global economy
David Laurier, CEO of environmental analyzer and integrated solutions provider AppliTek in Belgium
President Xi … has sent a very strong message that goes beyond respect and courtesy. During his speech, Xi has sent clear messages on his thoughts of global trends and China's development strategy. It is evident that China is open-minded in helping shape a win-win and sharing global economy by injecting green and sustainable impetus
Dennis Pamlin, founder of Sweden-based consultancy the 21st Century Frontiers
With the current political development, especially in the US presidential election, it is very much welcome that China focused on an open economy. It would be good if this process would focus the need on an open economy in the context of the great challenges we face. Last year the world agreed to radically reduce greenhouse gas emissions, address the global financial challenges and established the sustainable development goals where global inequity was an important part. This would help clarify the urgency for an economy that is built on global collaboration rather than protectionism.
Shada Islam, Policy Director of Brussels-based think tank Friends of Europe
As one of the world's largest economies, China has a pivotal role to play in steering the global conversation and ensuring coordinated international action on issues related to world Trade. A commitment by China to open and free trade is therefore highly significant especially at a time when political and public support for free trade is on the wane.
Fredrik Erixon, Director of the Brussels-based European Centre for International Political Economy in Brussels
It is critical that world leaders act to revert the trend of creeping protectionism in the world economy. Trade and investment are two engines of growth, and with the slowing growth of trade and investment, there has been a direct effect on economic growth, which this years will surprise us on the negative side.
Tony Payne, director of the University of Sheffield's Political Economy Research Institute
China is quite right to restate the case for an open global economy at the G20 summit in Hangzhou. Normally, this is one of the truisms that world leaders reiterate as a matter of routine, but at the moment it has extra meaning and significance because of the rising tide of populist politics that has emerged of late in parts of Europe and in the United States itself, which has been the most consistent advocate of openness since 1945. At the heart of that populism is a demand for national protectionism, as illustrated in its most threatening manifestation in Donald Trump's 'America First' rhetoric. America First unavoidably means the global order second. China cannot say it openly for all of the normal diplomatic reasons, but it badly need Hillary Clinton, not Donald Trump, to turn up at the next G20 summit! China is exceptionally well placed to make that case and lead the global order in that direction.
Duncan Freeman,Senior Research Fellow, Brussels Academy for China and European Studies
The open global economy has been weakened in recent years by crisis and the failure of globalisation to benefit all its participants, and also the incapacity of governments to sustain the relevance of institutions like the WTO. It is important that President Xi has committed China to an open global economy, but maintaining the system requires the commitment of all governments.China's reform and open in has been a key factor in the creation of the open global economy over the past three decades.