China and the European Union should focus on structural reforms, growth-friendly fiscal policies and more collaboration under the G20 framework as they look to achieve long-term growth, according to a senior official of the European Commission.
Marco Buti, director-general for economic and financial affairs for the European Commission, shared his insights regarding how China and the EU could lift growth even as they face economic headwinds, in an interview ahead of the G20 Summit in Hangzhou.
"The G20 Summit comes at a crucial moment when the global economy's revival is being slowed, and neither advanced nor developing economies can exclude themselves from downward pressure," he said.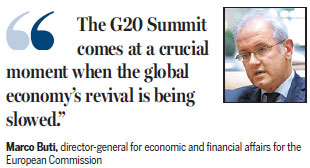 The annual growth forecast for the world economy has been lowered by the International Monetary Fund to 3.1 percent, which - alongside Britain's decision to leave the EU - adds further uncertainty both medium - and long-term, Buti said.
As China strives to switch its economic model from export - driven to consumption driven, Europe has been struggling to reinvigorate its strength amid signs that the bloc's recovery remains weak.
All this points to the need to turn to fiscal policies that could help drive innovation and infrastructure investment when monetary policies are found to be less effective, according to Buti.
"These suggestions are in line with what the G20 has been promoting" under China's leadership this year, he said, referring to G20 members' commitment to use all available policies to strengthen growth, promote infrastructure investment and better share expertise.
Buti said he expected both China and the EU to take opportunities provided by the summit to enhance collaboration and knowledge sharing, adding that both key G20 members have attracted private investment flows to infrastructure construction as well as to the development of small and medium-sized businesses.
There has been much, in terms of experience, that the two parties could share and learn from each other, Buti said.
In the meantime, both are able to enhance bilateral collaboration on cross-border initiatives such as the Asian Infrastructure Investment Bank and the Belt and Road Initiative, he added.
wangyanfei@chinadaily.com.cn
(China Daily 09/05/2016 page4)