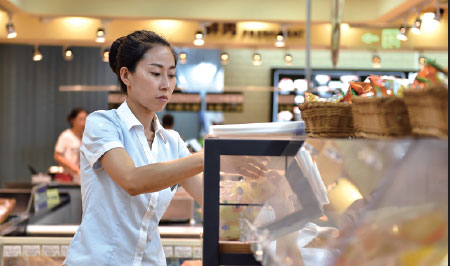 A woman worker of a now defunct coal mine in Jincheng, Shanxi province, has found a new job at a local supermarket. Xinhua
Resource-rich Chinese provinces like Shaanxi and Shanxi have rolled out their own measures to cut coal output as the country goes about shuttering loss-making "zombie companies" in the glut-marked industry.
Over the next five years, Shaanxi plans to shut 76 coal mines and cut output by 47 million tons per year, said Wang Weihua, head of the Department of Land and Resources of Shaanxi province, during a meeting.
He said it shows the local government's determination to cut overcapacity in the coal sector. Coal companies are helping implement the plan.
For instance, Shaanxi Coal and Chemical Industry Group Co Ltd, which is among the world's top 500 companies in terms of revenue, has shut coalmines with a capacity of 6.3 million tons last year.
The State-owned company plans to close 10 more mines and cut output by 30 million tons, which could see 50,000 layoffs this year.
The move came as the country pledged to cut 500 million tons of coal capacity in the coming five years, after coal prices fell dramatically from 2012 onward due to overcapacity.
"Prices of coal products were more than 700 yuan per ton, but now you should be thankful if the price hits 200 yuan," said Li Hao, head of the general management division of the Coal Trading Center in Shaanxi province. "This means, coal costs 0.2 yuan per kilo, cheaper than Chinese onions."
Lou Qinjian, governor of Shaanxi, said the local government's priority is to redeploy laid-off workers. "We are still in the early stages of calculating the specific number of employees who will be affected and the scale of the financial subsidies that will be needed," he said. "The government will make every effort to ensure that their lives are not affected."
Li Xiaopeng, governor of Shanxi province, said detailed plans for capacity cuts are yet to be finalized, but the local government has stopped exploration of new coalmines and suspended newly approved projects.
He said coal inventory in Shanxi is 50.76 million tons, three times that in 2011. The massive stockpile has necessitated output cuts.
Experts said the restructuring of the State-owned enterprises is key to cutting overcapacity. Free play of market forces could facilitate mechanisms like debt-to-equity swaps.
China is pressing ahead with merging and revamping State-owned enterprises. Over the next three years, it plans to clean up 345 "zombie" enterprises and unlock their full value, according to the State-owned Assets Supervision and Administration Commission.
lvchang@chinadaily.com.cn