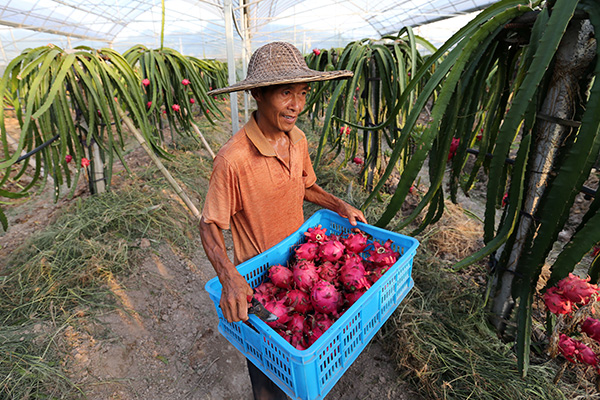 A farmer harvests pitaya fruit in the Xianju Agriculture Experiment Park for Taiwan Farmers. WANG ZHUANGFEI / CHINA DAILY
The government of Xianju, Zhejiang province, recognizes environmental protection requires more than pure policy-it's also a battle for hearts and minds.
That said, none of these are mutually exclusive. Rather, the county has demonstrated they are symbiotic.
Upon realizing the underdeveloped county's progress depends on ecotourism and organic farming, authorities set out to build consensus that green is the way to go.
"There were debates about why we should seek green development-and how," says Xianju's policy research department director Zhu Huwei.
"Now, people from the bottom to the top agree on this path. Our goals, strategies and practices are all based on this concept. People have already started to see the financial benefits.
"People used to believe economic development and ecological protection were inherently at odds. But they don't need to be."
The county's GDP has grown rapidly over the past years, during which time tourism has doubled.
"Many other places developed fast but had to turn around later to deal with pollution," Zhu says.
"We've been figuring out how to use our ecological advantages to develop rapidly over the past decade."
This has led to the rise of a grassroots "ecological culture", he says. Volunteer groups clear trash in rivers, valleys and mountains.
Zhejiang province recently designated the county as a pilot zone for the standardization of green practices because of its track record.
"We're setting standards-what's a green school, what's a green hospital, what's a green office," Xianju's Party chief Lin Hong explains.
"Sustainable development goes beyond government and business operations to include residents' daily lives. For instance, do people shop with plastic or cloth bags?"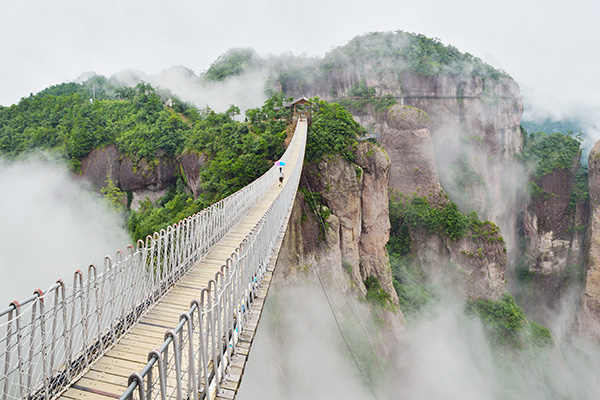 A bridge between mountains in the Shenxianju scenic zone in Xianju county.[Photo provided to China Daily]
Lin also advocates the reduction of food waste and donations of secondhand items.
The government has introduced a "1-3-5" recommendation in which, one day a week, people walk to work if their jobs are closer than 3 kilometers and bike if they're within 5 km.
Zhu says he rides rather than drives.
Public institutions and private enterprises are encouraged to agree to a "green convention" about behaviors they voluntarily assume.
Offices are encouraged to go paperless and print on both sides if physical copies are necessary. Workers are expected to turn off the lights and airconditioning when they, say, leave for lunch.
A system similar to the green convention offers guidelines for ordinary people.
Danzhu township has issued 10 suggestions for residents, including sorting trash, repurposing old items and refraining from littering.
"There isn't a tradition of sorting garbage in villages," publicity officer Zheng Yi says.
"We want to change mentalities."
Teams inspect homes to see if they're in compliance. Those who are receive small gifts, such as towels, detergent and thermoses. Households who separate kitchen waste and recyclable items earn 1 yuan (15 cents) a day after 30 days.
But it is more of an ethical than a material concern, Zheng explains. "If people's morality is enriched, they're more likely to engage in green behavior," he says.
Villages also form women's and Party volunteer teams to promote green behaviors.
A peculiar park in Xiachenzhu village bears testimony to the ethos. Four walls constructed with materials recycled from collapsed farmhouses stand in a field previously occupied by tombs, pigpens and a manure pit.
"We let the weeds grow so villagers appreciate nature," Zheng says.
But while there are no punishments for violating the guidelines, Xianju has also introduced punishable environmental ordinances.
Villagers organize patrols of up to five people to monitor behaviors along waterways and in forests.
Fines ranging from 500 to 10,000 yuan are issued for illegal fishing, dumping trash, camping and fires along Xiachenzhu's Weiqiang River, for instance.
It's a question of guidelines versus red lines. "It's a gradual process," Lin explains.
"Interestingly, villagers have done a better job than urban residents. Although people in the city typically have more education … Supervision isn't enough. We need to do more."
Xing Yi contributed to this story.