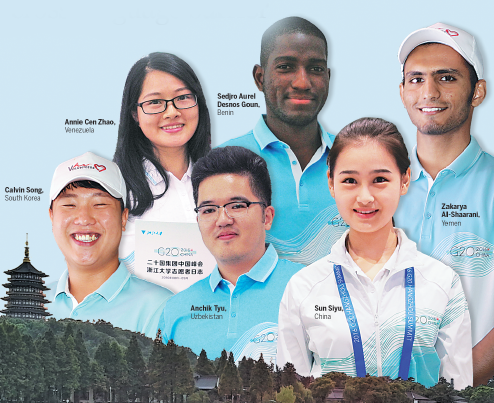 Inside an office at Hangzhou's Zhejiang University, Anchik Tyu, an Uzbek national who is in the final year of his doctoral work, was making a call on his mobile phone.
"Hello, do you speak Russian?" Tyu asked in Russian.
"I have just arrived at the Hangzhou Railway Station from Shanghai, and I don't know how to get to West Lake," Tyu said, trying to sound like a tourist.
He added that he wanted to save money and didn't want to take a taxi.
Tyu, one of 26 international students who are part of the volunteer team for the G20 Summit, was pretending to be a first-time visitor to Hangzhou, the capital of Zhejiang province, which is hosting the summit.
He was calling the language service local hotline-96020-to check on whether the service was up to the mark.
Tyu, who has been living in China for six years, is fluent in Chinese. His bilingual skills make him a perfect candidate for a language volunteer at the summit, which will draw leaders from 20 major economies.
"She did a good job," Tyu said after using the service.
"The instructions given by the attendant were clear enough for me to understand," he said.
Following the call, Tyu filled out an evaluation form that covered such factors as use of language and the attendant's attitude.
The hotline has been providing 24-hour service since Aug 10, with a separate crew of about 250 interpreters providing service in all of the languages of the summit's participating nations.
Annie Cen Zhao, from Venezuela, is responsible for testing the Spanish service.
"I asked the attendant how to send a box of local snacks back home. Also, I pretended to have problems with the customs office for carrying too much cash."
Zhao, who made her call in the middle of the night, has lived in Hangzhou for two years.
She said her love for the city prompted her to apply to be a volunteer.
But she and more than 60 other applicants had to go through several rounds of screenings and interviews to be recruited.
Like Zhao, Zakarya Al-Shaarani, from Yemen, learned about the recruitment in June and applied.
"I was a bit nervous during the interview," said Al-Shaarani, who came to China in 2014 to study Chinese.
After being selected, the international students participated in numerous training sessions, during which they were briefed about the summit, as well as the history and culture of Hangzhou.
"I found it very interesting to learn about the summit and the city," said Al-Shaarani. "Working with fellow students to serve at such an important event is really exciting."
Sedjro Aurel Desnos Goun, from Benin, is a candidate for a master's degree in international relations and has lived in China for nearly a decade.
"I admire China for having held so many large-scale events, such as the 2008 Summer Olympics and 2010 Shanghai Expo," Goun said.
He said he wanted to get an insider's view by being a volunteer.
Goun, whose Chinese name is Nuo Yan, or "promise", said he feels that being a volunteer is like "keeping a promise that you will be ready to serve anytime".
Besides testing the language service hotline, international volunteers have also been organizing English classes for local residents.
Australian Tim Clancy, who is studying clinical medicine at Zhejiang University, said he was honored that the West Lake district government invited him to take part in the making of a TV program that teaches English to Hangzhou residents.
"I'd never imagined that people here are so hospitable," Clancy said. "I want to be part of this great event."