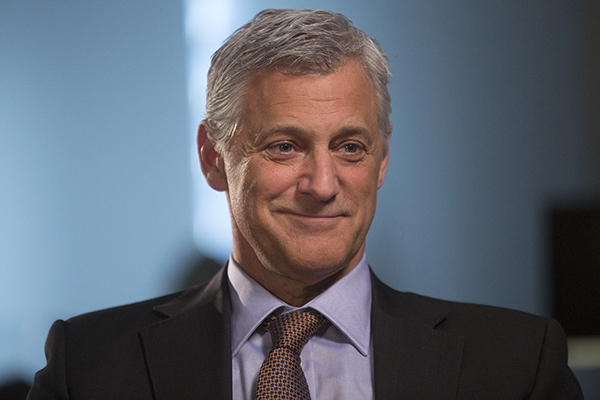 Bill Winters, chief executive officer of Standard Chartered Plc. [Photo/VCG]
Members of G20 should focus on unlocking investment to support the huge need for infrastructure finance as well as funding clean energy technologies to enable a transition to a low carbon world, a senior banking executive said on Friday.
Bill Winters, group chief executive of Standard Chartered Plc, said that China's presidency of the G20 will bring fresh opportunity into the global policy coordination process to support growth, job creation and a more secure world.
Winters made the comments in a written response to Chinese media ahead of the opening of the B20 (the Business 20) summit on Saturday, a forum for business leaders prior to the gathering of top G20 leaders.
Winters, who has participated in the B20 Financing Growth Taskforce as co-chair, said, "I hope to see progress made on multiple G20 priorities, including on financial regulation, global economic governance, the digital economy and green finance."
While Britain's withdrawal from the European Union has given rise to investors' risk aversion, the bank expects markets, especially in Asia, to overcome short-term pressures, Winters said.
"We anticipate the low interest rate environment in the US will continue and that the outlook for rising oil prices is favorable," he said.
The banking chief also warned sluggish global growth and the lowest labor-force participation rate in 40 years remain two significant risks to the global economy.
Winters said that China has shown its capability to manage the transition of its economy from an export-led, manufacturing economy to a consumption-based, services economy.
"Earlier market expectations of a China hard landing have eased. This has helped emerging markets in general. Real activity has been stable so far, and we expect China's growth this year to be robust, at 6.8 percent," he said.
He added that China has recognized the importance of investing not only for the future of its citizens, but also of its neighbors and trading partners.
"The establishment of the Asian Infrastructure Investment Bank and the Belt and Road Initiative are two very clear examples of China's vision for the future," he said.