Southerners spend more on skiing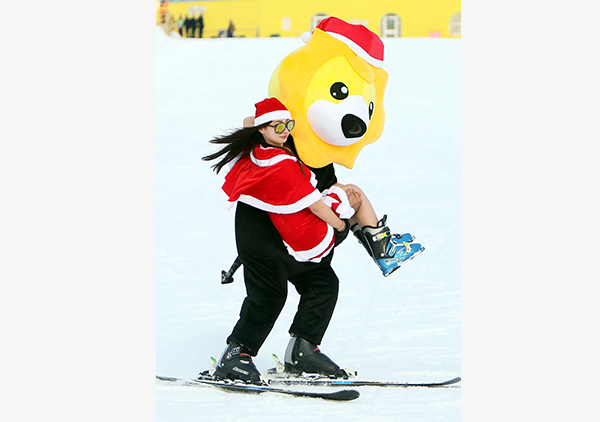 Skiers perform at a ski resort in Taiyuan, Shanxi province, Dec 23, 2016. [Photo/China News Service]
People in southern Chinese cities are showing a growing enthusiasm for skiing equipment, with five southern cities listed among the top 10 purchasers of skiing-related products in China this year, according to Amazon China.
The top 10 cities for purchases of skiing products are Beijing, Shenyang, Tianjin, Jinan, Shanghai, Chengdu, Wuhan, Nanjing, Guangzhou and Xi'an, according to statistics from Amazon China.
And despite the fact that it rarely snows in southern China, for the first time, five southern cities-Guangzhou, Nanjing, Wuhan, Chengdu and Shanghai-were ranked among the top 10 purchasers of skiing equipment, showing that interest in skiing products from consumers is heating up in that part of the country.
Winter sports have thrived in China since Beijing and Zhangjiakou, in Hebei province, secured the 2022 Winter Olympic bid. Following President Xi Jinping's call to develop winter sports, Beijing set a target to involve 300 million people in skating and skiing sports in the runup to the Winter Olympics.
This winter, Amazon China has seen substantial growth in searches on its platform for skiing products.
Last week, the e-commerce site launched an international skiing store and introduced more than 10,000 items from top international brands, including ski goggles, helmets, snow jackets, snowboards, cameras and smart wearable devices.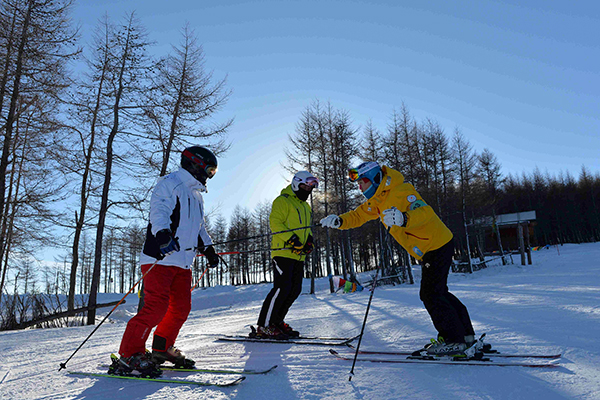 Skiers practice at a ski resort in Chongli, Hebei province, Dec 12, 2016. [Photo/Xinhua]
"Ski goggles and helmets are among the most popular products with the biggest sales on our website, showing that Chinese consumers are especially concerned about safety while skiing," said Li Yanchuan, vice-president of Amazon China.
"The biggest number of helmet orders came from Beijing and its surrounding areas. This could be attributed to the fact that many skiing resorts in Beijing and neighboring regions require skiers to wear helmets," he said.
International skiing brands are most well-received by Chinese consumers, and the most popular 10 brands on its website are all international brands, Amazon China said.
He Wenyi, executive director of the China Sports Research Center under the Institute of Sports Science at Peking University, said: "The huge market potential of skiing sports indicates that ski resort operators can consider running the resorts all year round, and local manufacturers should consider increasing their supplies of high-end skiing equipment in the home market."