60% of global Christmas commodities made in China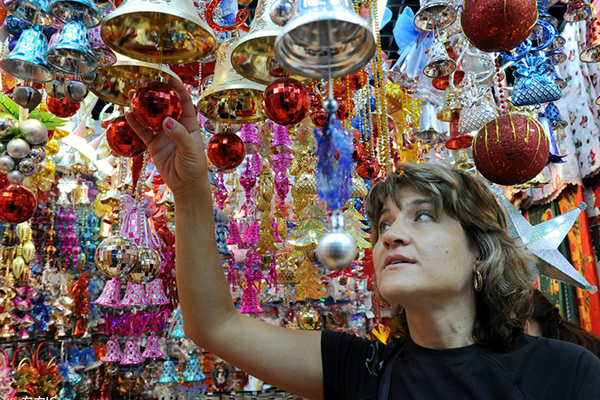 A customer from South America shops for Christmas decorations in a store at Yiwu International Trade City in Yiwu city, East China's Zhejiang province. [Photo/IC]
As the world's biggest transfer center for small items, the city of Yiwu in Zhejiang provicne provides 60 percent of global Christmas commodities, with over 1,000 containers full of Christmas items being delivered abroad from Yiwu just ahead of this year's Christmas Day.
Santa Claus-themed items and LED reindeer are sold in Yiwu through the year, making it seem that people here celebrate Christmas every day.
Workers in Yiwu set out to make Christmas products early in the summer.
There is a "Yiwu Christmas Village" where production is in full swing for months each year in order to provide commodities for overseas markets.
It's reported by BBC that there is no items that one cannot find in Yiwu. A brochure of a local logistics company reads that Yiwu attracts businesses from all over the world like a magnet.
As many as 8,000 foreign purchasers come to Yiwu for commodities, reports Der Spiegel.
This year, there were also direct railway routes transporting Yiwu products to Europe. It will take three weeks for the freight trains to arrive in Spain as they need to travel across Siberia.