Servant leader out to help businesses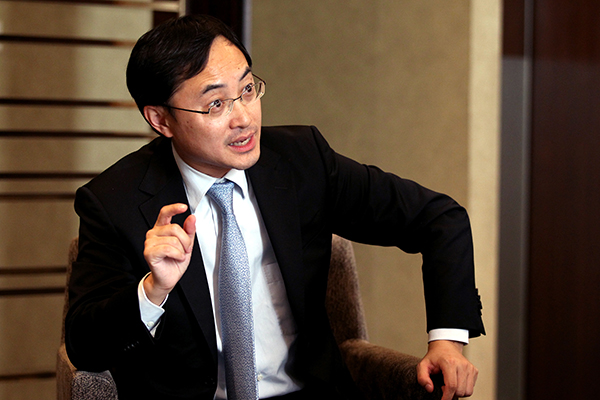 Han Weiwen, president of Bain& Co's China branch, is keen to see the consultancy firm helping local companies build new business models, expertise, talents and organizations. [Photo/China Daily]
Han Weiwen leads Bain & Co's China unit, now in its silver jubilee, toward exciting solutions
Han Weiwen, president of the China branch of Bain & Company, the global management consulting firm, comes across as a cerebral executive who is consumed by his own insights into what makes a company a winner.
He gets excited and animated while discussing management-evidently, he is passionate about it-and has even co-authored a book on the subject (Founder's Mentality, whose Chinese version is out), spilling some secrets.
"After 10 years of research into 100 companies across 40 different sectors in China and globally, we've found that founder's mentality is the secret (to winning for companies)," he said.
Even before your mind could wonder if this is some digital-age management mumbo-jumbo, the sharp-brained Han, as if sensing your thoughts, holds forth.
Many companies, he said, experience predictable crises of slowing growth, but those with founder's mentality grow at a very healthy rate.
This insight has been gathered from Chinese companies, and is relevant to the current context of China's slowing economic growth. Han said an economy can be only as healthy as its constituent companies.
By saying that, he makes a case for more and more Chinese companies developing founder's mentality.
What exactly is founder's mentality?
Han said there are three main elements to founder's mentality.
First, the founder has a clear mission, sees himself as an insurgent and wages war on his industry and its standards on behalf of underserved customers.
Second, he, or she, has an owner's mindset.
Third, he or she must be obsessed with the front line of the business, its employees.
"Maintaining that founder's mentality is also very important for a partnership firm like Bain, so we are pushing very hard internally to really distill it, to continue to be successful," said Han.
As Bain & Co's point man in China, his focus is on three key areas: the firm's operations in China, the firm's clients in the country, and how those two areas could dovetail with the goals of the larger economy.
Toward that end, the insurgent mission for Bain & Co in China, he said, is to make its clients more valuable, by helping them make, and implement, better decisions, including learning to be driven by results rather than reports.
To achieve that, Bain & Co's China branch has 25 partners or co-owners, including Han, who are obsessed with the front line, and with being close to the clients and their front lines.
Han joined Bain 14 years ago. He took the local arm's reins in September. His ambition, he said, is to ensure Bain's continued success in China, more so because 2016 marked the silver jubilee of the local arm.
"We have had tremendous growth in the past years and this year has been a particularly good year for us."
How good? Han declined to share revenue figures, but said they are closely related to the number of partners.
"We want to accelerate our growth in China. But that growth is subject to the quality of our clients, services and talents, so we won't sacrifice quality to just simply grow."
So, should we "simply" take his word for "good"? Well, he said, one-third of Bain's clients in China are local companies now (while two-thirds are foreign multinationals).
To serve them, Bain has expanded its resources to more than 200 consultants across six sectors, including financial services, private equity, healthcare, and consumer and retail.
That resulted in double-digit growth this year. Although he has been at the top for only four months now, Han takes pride in the achievement because he has been involved in hiring for Bain for about 10 years now. He personally recruited staff for the China operations and helped nurture the talented group.
Although some of them have left Bain to pursue their careers elsewhere, seeing them succeed and thrive made him proud that he played a role in their professional development, he said.
That role has many hues. There was a time when he was a client leader, he said. Now he will be a "servant leader".
As a client leader, he worked with local Chinese clients on strategy and operations. With companies' founders, he was always direct, to be able to influence them and their management teams, he said.
"Being the head of more than 20 partners and 200 plus consultants requires a little bit different leadership style. Essentially, I need to lead from behind and make sure that the partners and the leadership team have a common goal and direction."
No less than Bain's worldwide managing director, Bob Bechek, acknowledged in a statement that Han is a trusted adviser who brings a unique perspective to his work.
Looking ahead, Han said there are a lot of opportunities in China because the micro environment is changing. "Most Chinese companies have not experienced change in the past 30 years. So, Bain is uniquely positioned to help them build new business models, expertise, talents and organizations."
As for challenges, he said Bain needs to innovate and transform itself to align with the new environment, given that many current business models are years old and belong to developed markets.
"We need to adapt to the demands of local Chinese companies and work closely with these clients to co-develop solutions that may not exist in the world or in China. I think the next 10 years will be very exciting for both our clients and Bain in China."
To cope with all that excitement, Han's strategy is to make the most of his weekends, which are usually spent in the company of his wife and two sons, 14 and 2, the older one being an aspiring swimmer. Han himself loves exercising, watching movies and listening to music.