Deutsche Bank to pay $7.2b to settle US probe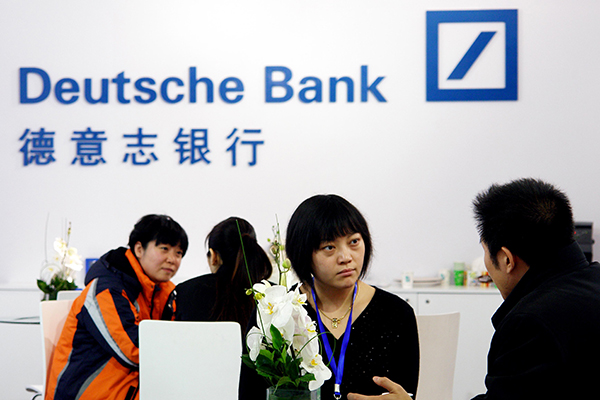 The booth of Deutsche Bank AG at an industry expo in Beijing. [Photo/China Daily]
Deutsche Bank AG said it has reached a $7.2 billion agreement to resolve a years-long US investigation into its dealings in mortgage-backed securities, removing a legal hurdle that fueled investor angst.
Deutsche Bank will pay a $3.1 billion civil penalty and provide $4.1 billion in relief to consumers under a settlement in principle with US authorities, according to a statement early on Friday. The fine will cut pretax profit by $1.2 billion this quarter as the firm taps existing legal reserves to blunt much of that cost. The relief may drag on earnings for years.
The settlement "might help in the short run because a major source of uncertainty has been cleared," said Michael Huenseler, an investor at Assenagon Asset Management, which holds about 0.8 percent of Deutsche Bank's shares. "But it's still higher than many have expected and it will pose a long-term drag on profitability."
The deal is far below the Justice Department's initial request of $14 billion, which had spooked stock and bond holders earlier this year, rattling entire markets. Credit Suisse Group AG just hours later announced that it had settled a related probe with the DoJ for $5.28 billion.
Bloomberg