Dalian company raring to export metro rail products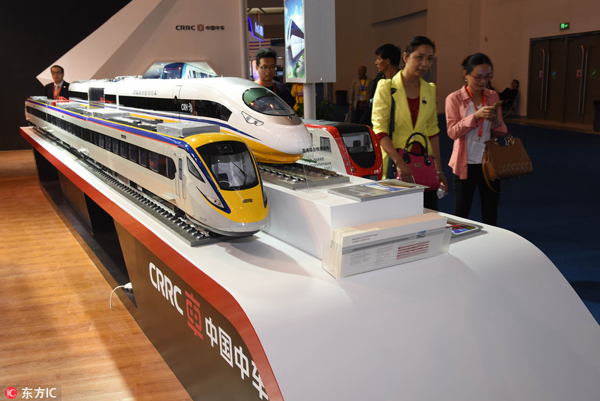 A booth of CRRC at an expo in Kunming, Southwest China's Yunnan province, June 12, 2016. [Photo/IC]
New types of metro rail rakes manufactured by CRRC Corp Ltd, China's largest rail transportation equipment maker, are in operation in Izmir, Turkey.
With a design speed of 80 km per hour and a maximum capacity of 1,286 passengers, the rakes mark a 19-km metro line in the port city in western Turkey.
"This is the first time that China's metro rail products have entered the European market," said Wu Tao, vice chief-engineer of CRRC Dalian R&D Co Ltd, and project manager in charge of the trains' electric traction and control system.
At the beginning of last year, CRRC Tangshan Co Ltd received an order for 19 rakes with 95 cars from Izmir Metro.
The traction and control system, known as the heart and brain of the trains, are developed and manufactured independently by CRRC Dalian R&D Co Ltd in Dalian, Northeast China's Liaoning province.
"As our first big project in the developed market, it lays a solid foundation for our future development," said Wu.
He said the researchers made two technical innovations in the trains for Izmir. One, the event recording system with the same level of protection as black box of aircraft; two, the wireless communication support system that ensures seamless connection between the train and ground control.
Wu said the company has more than 20 laboratories, including a key national lab for traction and control.
Currently, it owns more than 700 technical patents. A large number of them have been widely applied in the manufacture of locomotives, electric multiple units and commuter rail systems.
In August, the first two of 232 trains with engines - the largest overseas order for China's diesel locomotives with trains - were delivered to South Africa.
CRRC Dalian R&D supplied the electric traction and control systems for the order.
In addition to Turkey and South Africa, the company has supplied traction and control systems for locomotives and commuter trains to India, Argentina, the Philippines, Ghana and Iran, said Wu.
"We are actively participating in global cooperation, taking advantage of the booming development in the rail transit sector in the world," he said.
According to Wu, CRRC Dalian R&D Co Ltd will continue to cooperate with train manufacturers in 2017 to supply traction and control system fortrams, diesel railcar trains, light-railway trains, and subway trains that will be exported to Ethiopia, Angola, Kazakhstan and India.