No support for 'massive' stock speculation of insurers: CIRC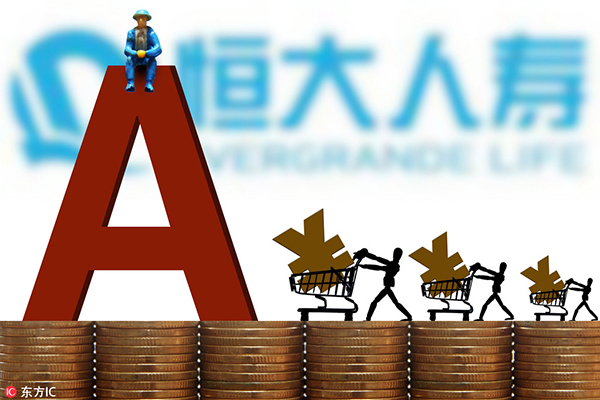 [Photo/IC]
BEIJING - The Chinese insurance regulator has said it does not support insurance companies "massively and frequently" speculating in stocks, as recent quick buying and selling of shares by Evergrande Life stirred market worries.
"Evergrande Life should deeply reflect on the negative effects of its practice," China Insurance Regulatory Commission (CIRC) said Tuesday in an online statement, asking the insurer to uphold the principle of value investing and "make portfolio investment more cautious and stable."
The CIRC said it has warned executives of the company, which has promised to stop.
Evergrande Life, controlled by property conglomerate Evergrande Group, was criticized for causing volatility in the market by quietly buying shares, hyping the purchases to prop up the prices, and then selling quickly to take profits -- leaving shares to fall sharply and causing investors huge losses.
Guangdong Meiyan Jixiang Hydropower, one of the insurer's targets, had jumped by around 50 percent during a week-long period before Evergrande Life sold its holding at the end of October, which triggered days of price plunges.
The insurer was reported to have adopted the same strategy in shares of many other companies.
Despite gains from the stock market, Evergrande Life posted a loss of 965 million yuan ($142 million) in the third quarter.
The CIRC said it will take timely measures against such cases in the future and improve the supervision over insurance capital.