Inlanders journey to the coast for voyages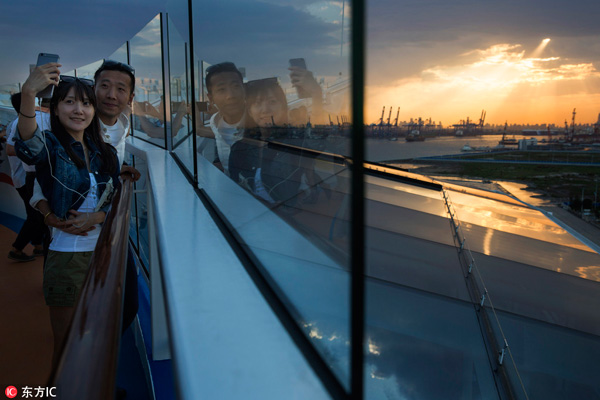 A couple takes a selfie with the sunset onboard Royal Caribbean´s latest cruise ship the Ovation of the Seas ahead of its inaugural voyage at the International Cruise Terminal in Tianjin, June 24, 2016. [Photo/IC]
The number of travelers from inland cities on the Chinese mainland-who fly to a cruise liner homeport on the east coast and embark on a cruise-has been on a sharp rise over the past few years, according to a top executive with an international cruise liner group.
Liu Zinan, senior vice-president of Royal Caribbean International, made the remarks during a media briefing in Shanghai last week, while introducing plans to upgrade the company's products.
Royal Caribbean, the world's second-biggest cruise operator, said that the hefty increase in the Chinese business is expected to continue in the coming years.
Liu said that people who grew up inland have a strong respect and desire to experience life on the ocean.
"That's why a growing number of people are willing to make such fly-cruise tours when the cruise market is becoming mature in inland provinces," Liu said.
Wang Jing, head of sales and marketing in western China for Royal Caribbean, said that the market in this region started from scratch five years ago.
"The number of such travelers has increased at an annual average of more than 40 percent in the past five years," said Wang, who is based in Chengdu, Sichuan province.
Jiang Hong, chairman of Best Cruise International, a cruise agency based in Kunming, Yunnan province, said 84 people were the first batch of tourists from Yunnan to embark on a voyage on Royal Caribbean's cruise liner Quantum of the Seas in June last year.
"But since spring this year, we have at least 500 tourists from Yunnan on each of the four or five voyages run by this company's cruise liners each month," Jiang said.
"Overall, the number of people making fly-cruise tours this year has at least doubled that of last year," he said.
Wang said such tourists currently make up roughly 5 percent of their total customers, but would rise to 10 percent-the same kind of levels as in the US market, where cruise tourism is quite mature-if transportation costs between their home city and port cities were lowered.
"The largest obstacle for these tourists is that they have to buy round-trip air or train tickets from their home to the port city, which is between 2,000 yuan ($296) and 3,000 yuan, almost the same as a cruise liner ticket," she said.