Help wanted for cruise industry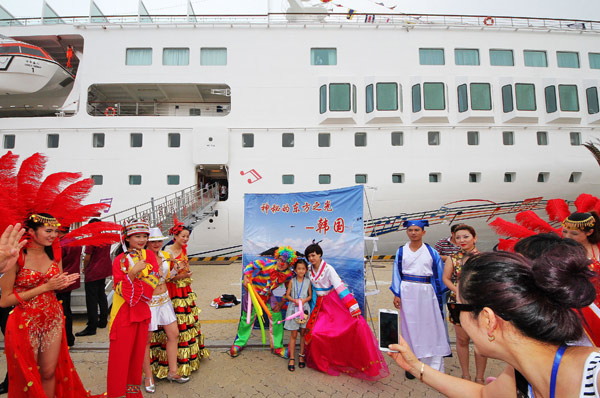 Performers welcome passengers on board cruise liner Chinese Taishan for a voyage for South Korea in Yantai, Shandong province. TANG KE / FOR CHINA DAILY
Shortage of professionals rocks China's ocean and river travel industry
Wanderlust linked to the rising disposable income of the vast middle class of China has created humongous opportunities for the country's cruise, yacht and water tourism companies, but the massive demand-supply gap in specialist human resources is threatening to drown them.
China is already the world's fastest-growing cruise market. By the end of the year, Chinese will have bought 1.95 million outbound cruise trips, accounting for more than 50 percent of the Asian cruise market, according to the Cruise Lines International Association.
In recent years, Chinese bought about 1 million individual luxury cruise trips annually. As per the CLIA data, by 2025, that number is expected to grow to 8 to 10 million, as up to 200-300 million Chinese will be able to afford cruise trips.
Yet, major cruise lines are worried a lot these days. For, another set of figures is ringing alarm bells.
By 2020, crews numbering 300,000 will be needed for China's cruise, yacht and water tourism industries. These jobs include captains, helmsmen, pilots, marine engineers, hospitality professionals, performers, emcees, translators, communicators and security people.
The problem has become potentially monstrous because of inadequate number of specialist schools and training centers dedicated to the cruise industry.
Another reason is that ships of different types require crews of varying sizes, ranging from 25 percent to 75 percent of passenger capacity.
That's not all. These days, cruise lines organize a variety of events and entertainment onboard-beauty pageants, singing competitions, board games, and all of which require a plethora of professionals, specialists, experts, organizers and impresarios.
For instance, Geneva-based MSC Cruises, whose ships bring global tourists to China and take Chinese to other countries, said it would need an additional crew of 5,000 by 2017, including 750 Chinese to serve mainland tourists, and 32,000 more by 2022.
"We are actively looking to set up partnerships with hospitality schools in China, and we will recruit, develop, and reward skilled people. We have demand at both entry-level and middle-management positions. They are from diverse countries and speak different languages, and this creates a challenge in terms of language skills of our crews," said Gianni Onorato, CEO of MSC Cruises.
"Brands live or die based on their crews' performance, and a ship requires many specialist roles. The training and work experience of cruise staff are critical."
What might complicate the situation is that cruise liner crews have to be away from home for long periods of time, which makes this field seem less attractive relative to other career options.
"Cruise staff usually need to sign a long-term contracts and take time away from home," said Onorato.
In addition to shortage of talent, other problems like the lack of balance in cruises' organizational structures, dearth of mechanisms to foster talent, poor focus on cruise-specific courses in hospitality management colleges, and absence of reputable institutions are compounding the industry's worries.
"There are many higher education institutes that launched subjects related to international cruises, but as part of hotel management, tourism management or English language courses. There are no specialist courses yet in subjects like cooking on cruises, cruise marketing and cruise management. Such programs are still under development," said Ma Kuijun, president of Tianjin Maritime College.
"Besides, most schools have no clear cruise personnel training or orientation courses. It would be good if different colleges focus on their own advantages and features, and design distinct programs and teaching materials for numerous positions on the ships.
"In addition, we need teachers who are experts in cruises, not generalists with superficial knowledge of cruises. Besides theory, practical training is important too, without which students cannot bring value to cruises when they eventually land a job."
Another weak link in the chain is that many hospitality management colleges do not have direct campus placement agreements with the foreign cruise companies that currently dominate China's water tourism market.
Instead, colleges deal with intermediaries or hotels.
Shi Jiangyong, vice-president of the Shanghai University of Engineering Science, said: "Colleges and (cruise) enterprises should forge long-term cooperation. Schools should orient themselves to the industry's specific needs, facilitate communication between employers and students, and provide students internship opportunities at cruise companies."
Agreed Wu Qiang, general manager of China State Shipbuilding Corp. "Chinese increasingly prefer healthy and diverse forms of entertainment and travel. Ocean travel will be a critical element of that trend," Wu said.
According to Onorato of MSC Cruises, there is still room for optimism amid all the worries and concerns, as the nascent career option has its bright spots.
"Chinese crews will have benefits like being able to travel on a variety of ships around the world. We'll rotate crews throughout our fleet," said Onorato.