China's personal shoppers are cashing in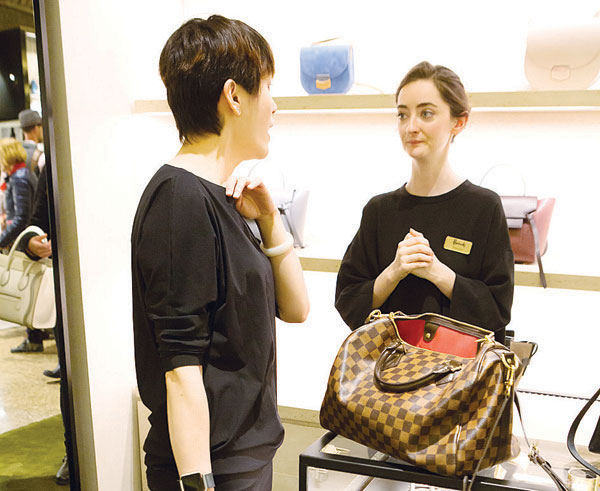 A shopper talks to a member of staff at Harrods in London. [Photo by Huang Qiuchen/For China Daily]
Julie Li-not her real name-is laden with Harrods carrier bags full of cosmetics, but they are not hers; the 30-year-old finance graduate from Beijing is a fulltime freelance retail consultant, something known in China as a daigou.
"I worked as a daigou alongside my day job for about three years, but six months ago, I decided to quit my job to fully concentrate on the business because the profit margin is lucrative and the hours are more flexible," said Li, who asked to be known by a pseudonym.
Dressed in a fashionable white Reiss dress and holding a light color Chanel leather handbag, Li is glued to her smartphone. She is using the messaging app Wechat to communicate with clients in China who are willing to pay a premium for authentic luxury goods that are usually relatively cheaper than they are in China.
Having developed three major wholesale clients, each with around 300 customers, Li buys 10,000 pounds' worth of top-end lipsticks on behalf of clients every day.
"The weak pound after Brexit is also giving a boost to my business and sales have doubled in recent months," Li said.
Charging 5 percent of the retail price and handling large quantities on a daily basis, she is able to pocket as much as 20,000 pounds in commission during a good month.
"My clients are usually middle-incomers in China who have a strong appetite for high-quality products," she said. "I believe the quality standards, the product ranges and the cheaper prices are the main reasons why Chinese consumers look to the West."
Li said a high-end daigou has to know about products, prices, colors, range, and availability.
Experts say the agents have challenges because customers need to be convinced the goods they receive are genuine and that suppliers are reliable.
"An important issue is the uncertainty faced by consumers who wonder whether products are genuine because, the higher the demand for a product, the more there is a chance it will be a fake or an adulterated product," said Pervez Ghauri, professor of international business at Birmingham Business School.
The buyers are mainly from the Chinese mainland and specialize in helping customers in China buy luxury products, including bags and cosmetics, as well as health supplements, such as baby milk formula.
Business has boomed in recent years, accounting for RMB 34 billion to RMB 50 billion ($5 billion to $7.4 billion) in global sales last year, according to a report from consultants Bain & Company.
In 2008, the baby milk scandal, in which Chinese milk and infant formula was contaminated with melamine, led to many Chinese parents shopping overseas for milk formula. At the height of the boom in demand for milk formula, retailers in the UK rationed the sale of powdered baby milk to ensure availability for domestic parents.
Observers note that safety standards are one of the reasons why some Chinese consumers buy Western products.
Geoffrey Wood, dean of the Essex Business School, said many Chinese consumers believe Western countries have more rigorous production standards, and the will to enforce rules ensuring quality.
Seizing the opportunity presented by the baby milk scandal, 29-year-old Jimmy Zhen-not his real name-began buying milk powder for his Chinese customers in 2009 while working a fulltime job.
"In the beginning, I only shopped for family and friends who knew I was abroad and felt the authenticity of the products was assured. Through word of mouth, I developed a large customer base, and built trust with my clients," he said. After demand rose, he became a fulltime shopper in 2011.
A restriction brought in by the UK government in 2013 to cap the sales of milk formula at two cans per customer stacked the deck against Zhen's business, but he managed to find a way out by paying students 50 pence above the retail price for every can they sold him. He currently ships more than 8,000 tins each month.
Earlier this year, the Chinese authorities tightened regulations around cross-border online shopping. Commentators say the changes, to Chinese customs regulations and ecommerce has dented the daigou's trade, but Zhen has adjusted by shipping four cans at a time instead of six. It ensures he avoids paying import tax.
Daigou shoppers admit their industry exists in a grey zone legally and is likely to be short-lived, but Li is cashing in for as long as she is able.