Rio gives away giant iron ore field once worth fighting for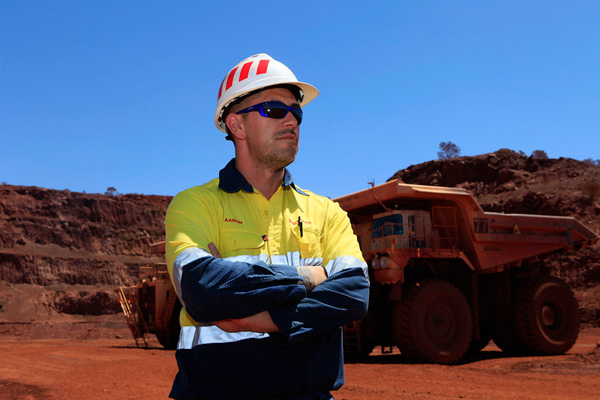 An employee in the mining area of Sinosteel Corporation's Australian subsidiary where Rio has a 60 percent stake. [Photo by Zhou Dan / Xinhua]
The giant Simandou iron ore mine in Guinea caused countless headaches for Rio Tinto Group, but it was always worth the fight. Not any more.
Rio turned its back on Simandou, one of the world's largest untapped iron ore deposits, by signing a non-binding agreement with partner Aluminum Corp of China to hand over its stake. Rio may receive as much as $1.3 billion should the mine be built.
For an undeveloped piece of mountain, Simandou has a storied past including a US Department of Justice corruption probe involving diamond billionaire Beny Steinmetz. The mine's fortunes also offer an example of the situation facing the wider industry-after years of profligate spending, the sector is abandoning new projects in a new era of lower iron ore prices.
"Out with a fizzle, not out with a bang," said Hunter Hillcoat, an analyst at Investec Plc in London. "It's a pretty sad indictment of the super cycle."
Rio Tinto, the world's second-biggest miner, had been exploring Simandou since the 1990s, lured by a resource that's now estimated at 2 billion metric tons of iron. The deposit came to prominence in 2007 as Rio fought off a hostile takeover bid from larger rival BHP Billiton Ltd. At the time, Rio used the resource as an example to argue that the company was undervalued, calling the project the world's "top undeveloped" deposit.
"It was a rush for the best-quality assets you could get," said Hillcoat. "There was never going to be enough iron ore to satisfy the world's demand on the projections people had at the time."
Rio has been fighting for rights for the asset since 2008, when the government stripped the company of some of its license area. Steinmetz's BSG Resources Ltd bought rights to the project that year. Later, Vale SA agreed to acquire 51 percent of the project from BSGR for as much as $2.5 billion in 2010.
BSGR's grip loosened when a US grand jury began looking at whether bribes were paid by Frederic Cilins, who had links to the firm, to a wife of former Guinea President Lansana Conte. BSGR was ultimately stripped of the license in 2014, with a Guinean government committee saying it found evidence of corruption in the award of the project. BSGR always denied any wrongdoing.
The development of Simandou was hampered by West Africa's Ebola crisis in 2014 and the collapse in iron ore finally ended Rio's interest. Prices slumped 67 percent from a peak of more than $190 a ton in 2011 as China's slowdown sent commodities tumbling. The world was awash with supply after Rio, BHP and Vale had rapidly increased production.
Bloomberg