Developer quickens globalization push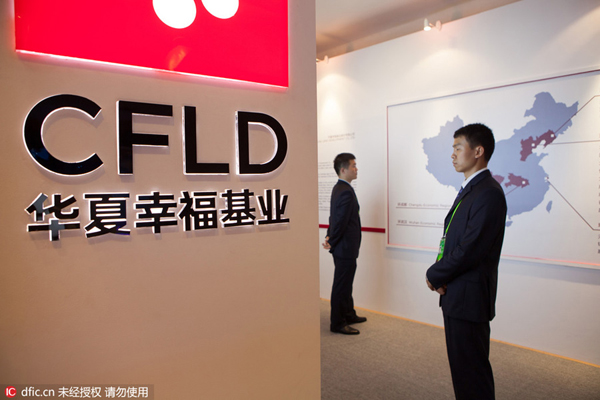 Employees are seen at the stand of China Fortune Land Development during the Boao Forum for Asia Annual Conference 2014 in Qionghai city, South China's Hainan province, April 9, 2014. [Photo/IC]
China Fortune Land Development Co Ltd is accelerating the pace to gain market share overseas, betting big on foreign countries' appetite for new industrial cities.
CFLD, the industry zone developer and operator in Hebei province, said it will help the governments in foreign countries, such as those from Southeast Asia and South Asia, to build and manage new industrial cities, as the company's next priority is to promote a globalization strategy.
Yang Kan, property analyst at Ping An Securities Ltd, recently reiterated the conviction buy of CFLD stocks, as the company "actively explores the global market."
The company's net income rose 22.32 percent to 4,603 million yuan ($679 million) in the first nine months of 2016 compared with that of last year, according to the latest quarterly statement. In the same period, its revenue increased 1.82 percent year-on-year.
The fast global business expansion, especially among countries along the Belt and Road Initiative, has fueled CFLD's strong performance.
To date, it has signed memorandum of understandings with Indonesian, Indian, Vietnamese and Egyptian governments to work out wide-ranging partnerships in the construction of industrial zones or city complexes.
In early October, CFLD secured its first project in Africa-to build a new city in Egypt. Under the MOU, CFLD will help the Egyptian government build a new administrative capital located between Cairo and Suez, a city along the Suez Canal.
It is believed that, once completed, the city will serve as the country's political and financial center and will effectively drive the development of the Suez Canal Economic Belt and the Red Sea Economic Belt.
To facilitate the overseas projects in mid October, the company signed a strategic agreement with US-based Conway Inc, a provider of corporate investment services, to cooperate in attracting foreign investment and enterprises to CFLD's new industrial cities overseas.
"Conway has a global network of attracting investment, a solid base of client relations, and a powerful database of site selection, which meet CFLD's immediate needs," Li Shaoming, real estate analyst with China Investment Securities Ltd, wrote in a research note in late October.
"CFLD could use the resources to land quality investments to its overseas projects, " Li added.
In addition, the company plans to integrate itself in global innovative ecosystems through angel investment.
CFID, in partnership with a local technology company, set up 16 incubators at global innovation hubs such as Silicon Valley, Tel Aviv, Berlin and Seoul, and raised 1.53 billion yuan to invest in 319 startups across the world.