Private retirement homes appeal to more pensioners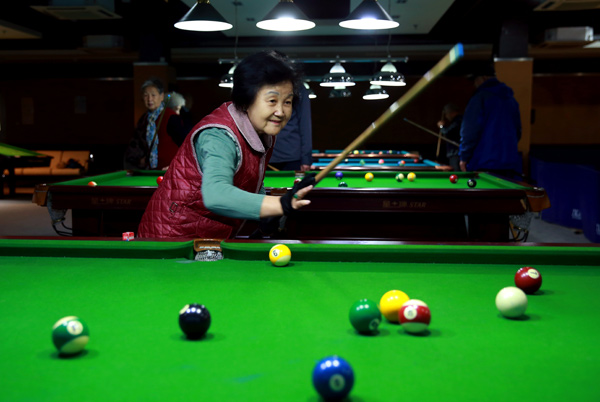 Fan Xiaomei, 70, a retired official of the Ministry of Education, plays pool at the Yanda Golden Age Health Nursing Center in Yanjiao, Hebei province, which is just outside Beijing. ZOU HONG/CHINA DAILY
Breaking with cultural norms, retirees pick communities with elder care and amenities
Traditionally, elderly Chinese prefer to age in place, or live in their own home and community, cared for by children or other relatives.
But a changing China is making that more difficult.
Retired professor Hu Qingying, 85, who lives alone, tried to maintain that tradition with her family by having cameras installed in her home so she could be monitored by her daughter, Cathy Liu-who is about 9,000 kilometers away in San Francisco.
"I know she cares about me and wants to check in on me now and then," said Hu, of the nanny cam-like devices installed in her Beijing home. "But it felt really weird. Even when I went to the bathroom, I knew there was a camera on."
Six months ago, after trying the cameras for nearly a year, Hu decided to move into a new, high-end suburban retirement community. The Yanda Golden Age Health Nursing Center charges 7,000 yuan ($1,035) a month to rent a fully furnished two-bedroom apartment with basic care, including a nurse call button. It is in Yanjiao, a bedroom community just outside Beijing, in Hebei province.
The center has a variety of amenities like a swimming pool and a gym and is home to 1,600 retirees. Most residents held positions of some responsibility during their working years. Among them are former professors, diplomats and a vice minister. At an average age of 82, 30 percent have children who live abroad.
"Our first-phase development, costing 2 billion yuan, has full occupancy," said Cui Kai, deputy general manager of the retirement community. The developer, Yanda Group, is pouring 3.2 billion yuan into the second phase. When finished in 2018, it will add 8,000 beds, bringing the total to more than 10,000.
Cui said he's intrigued by the overwhelming response. His staff provides tours of the site to some 300 to 400 senior visitors a week.
The community was originally planned to house foreign retirees and Chinese who returned from overseas, with apartments of American, European and Southeast Asian styles for them to choose from, Cui said.
"But we soon changed our mind, because we found visa requirements and domestic medical care conditions were major obstacles," he said.
To the developer's relief, retirees from the capital city soon filled the gap, paying 5,000 yuan to 13,000 yuan-depending on the size of the apartment and the level of care that a resident needs. "We're surprised to find that most residents want a two-bedroom apartment, even though they live alone," Cui said, noting that they consider their new residence more like home than a nursing home.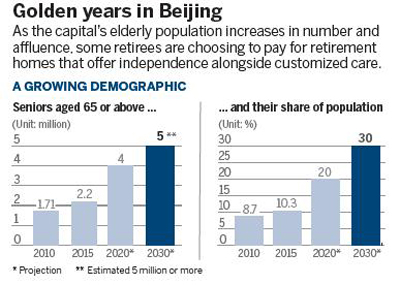 Helping explain how all this is being paid for, elderly care researchers in Beijing found that almost all local seniors have pensions. Among couples, 23 percent receive more than 8,000 yuan or more a month, while 65 percent of single seniors collect 3,000 to 5,999 a month.
Also, in a city known for soaring housing prices, 81.8 percent of local seniors own their own homes, with 7.7 percent having more than one, which can also help support them in their later years if they sell or rent out their property, the researchers said in their recently published Blue Book of Elderly Care as an Industry in Beijing.
By the end of last year, Beijing had 2.2 million residents aged 65 or above, about 10.3 percent of the population. They are expected to double in 2020, official estimates said.
Beijing has anticipated 4 percent of all local seniors, or 160,000, will spend their twilight years in nursing homes by 2020. The majority will be taken care of by their families or community eldercare services.
But the lack of adequate caregiver support and medical services have encouraged many seniors with sufficient economic means to find alternatives to ward-like settings in traditional institutions.
Last year, Qian Liqun, 76, a renowned scholar and professor at Peking University, caused a small stir after he and his wife made the unconventional move of selling their house in western Beijing and moving into an elder-care community. Their 100-square-meter apartment, amenities and services cost 20,000 yuan a month at the tranquil Taikang Community, tucked away in the hills of Beijing's northern suburbs.
Qian said he now can concentrate on writing and reading, without worrying about housework and cooking.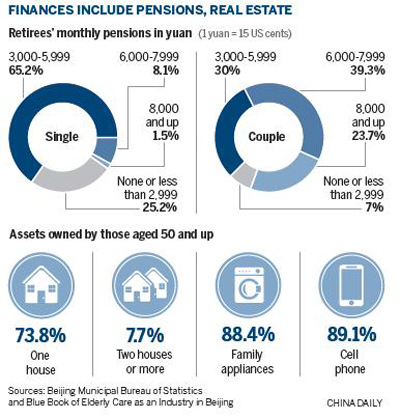 For most well-off residents, being close to medical facilities is a top consideration.
Golden Heights, a high-end retirement community in downtown Beijing, prides itself on having a clinic open to both its residents and their neighbors. Its apartments, including a basic level of care, start at more than 10,000 yuan a month due to its "medical care and nursing" model and prime location.
The Yanda retirement community, where Hu lives, has its own modern, private hospital but charges lower rates mostly because it is outside Beijing's municipal borders.
As healthcare benefits vary between jurisdictions, those who live there but have their official residency in Beijing have to pay out of pocket and get reimbursed later in the capital, which has been a concern for seniors.
Cui, the vice president, said the local governments have been working to solve the problem, which could help lure more seniors to his community from Beijing.
While lower prices mean it takes longer to recoup the total investment, the project is already profitable and the future looks good because of plentiful demand, he said.