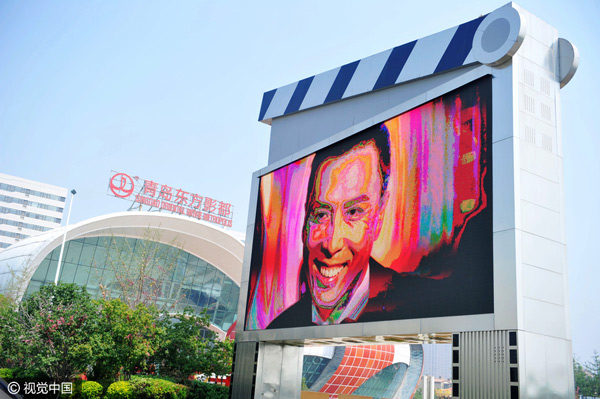 A view of Wanda's Qingdao Oriental Movie Metropolis in Qingdao, East Chian's Shandong province, on May 25, 2016. [Photo/VCG]
LOS ANGELES - The Academy of Motion Picture Arts and Science (AMPAS) spoke highly of China's Wanda in promoting the communications and exchanges of the film industry between China and the United States.
"Wanda has a potential to create an unprecedented bridge between American and Chinese filmmaking communities, and get in process of bringing American films to a fast growing Chinese theatrical audience with relationships and extensive theatrical commercial infrastructures," Cheryl Boone Isaacs, president of AMPAS told a night gala held by Chinese Wanda Group Monday night at the Los Angeles County Museum of Art.
"The entire Hollywood press corps turned up," wrote by Brooks Darnes in a New York Times article on Tuesday to describe the event.
Isaacs announced on the event that the Academy decided to name the film history gallery in a new Academy Museum as The Wanda Gallery to hail Wanda's support and its progress made in film industry.
In 2013, Wanda announced donating $20 million as a gift to the museum.
The under-construction Academy Museum of Motion Pictures located next to the LACMA campus in the landmarked Wilshire May Company building. The museum will be the world's premier museum devoted to exploring and curating the history and future of the moving image.
When the museum opened, it will curate and present the work of Oscar winners and nominees, as well as the legions of global artists who make movies.
The Museum will provide interactive, immersive and engaging exhibitions that will pull back the curtain on moviemaking and highlight the history and future of the arts and sciences of film, according to the Academy.
"China is a wonderful land which explored the horizons and a beautiful place which is always catching the imagination of American film makers, because it is as live as it is ancient, a place where tradition meets technology," Isaacs said.
She noted that the borders of film making have disappeared. "Filmmaking is now a global ministrative, people all over the world are demanding more and more exposure to the power of film."
Wanda, one of China's leading real-estate companies, marched into the entertainment industry in recent years. It has acquired a string of companies, including AMC Theaters and Carmike Cinemas, as well as Legendary Entertainment in the United States.