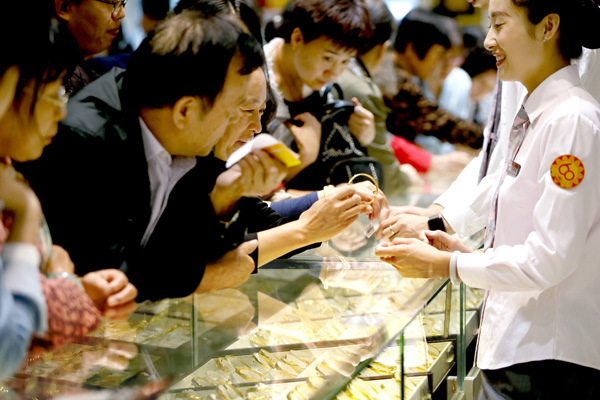 Customers look at jewelry at a gold store in Beijing. [Photo by Cao Boyuan/For China Daily]
The biggest weekly slump in the global gold price led Beijing's gold stores to cut their prices for the first time this year. The price in Beijing declined by 10 yuan ($1.5) per gram on Sunday. This was the first cut, following six earlier price increases this year.
Gold had the biggest weekly loss in more than three years as investors debated prospects for higher US rates.
In China, prices declined as trading restarted after a week's holiday. Bullion of 99.99 percent purity slumped 4 percent to 273.6 yuan per gram on the Shanghai Gold Exchange at 15:30 on Monday.
Huang Liang, a gold analyst at Guohua Jewelry, said the price cuts by Beijing's gold stores were within expectations.
"There's a stronger expectation that the US Federal Reserve will raise rates in December, so the dollar is rising and gold price is decreasing," said Huang.
Yu Guiying at Beijing-based All Love All Life Gold Store said their jewelry business was not influenced by the global price slump, and the price reductions at Beijing's gold stores from Sunday would further promote their sales.
"But it is true that people are less interested in purchasing gold bullion as an investment product," said Yu.
Goldman Sachs Group Inc said on Thursday that a drop in gold prices significantly below $1,250 per ounce would present investors with a strategic buying opportunity, with the metal offering protection against risks to global growth and the limited effectiveness of central banks.
China's official gold reserves stood at 1,839 metric tons in September this year, up 74 percent from that in June 2014, according to data of the People's Bank of China.