A staff member demonstrates the process of 3D printing of a car wheel at the expo in Shanghai, June 2, 2016. [Photo/VCG]
Private equity and venture capital investment in the telecommunications, media and technology (TMT) sectors reached a new high in the first half of 2016, and the trend will continue in the second half, according to a report issued by PricewaterhouseCoopers on Wednesday.
There were 1,351 PE and VC deals made in the TMT sectors in the first six months, and their investment amount totaled $34 billion, increasing 93.8 percent year-on-year. The second quarter proved particularly notable, with their value hitting a record high of $20.1 billion, according to the report.
The TMT sectors saw a total of 45 deals with a single deal value of more than $100 million during the first half of the year.
The highest single deal value in the first quarter was $3.3 billion by group-buying player Meituan, while the second quarter included two deals of ride-hailing company Didi Chuxing and financial company Ant Financial Services Group, each with investment value of $4.5 billion, marking the highest single-deal value on record.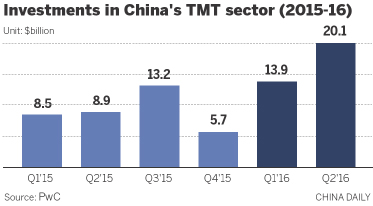 "We are seeing an increase in the scale and range of investments in the TMT sectors, which can be seen in the emergence of unicorn companies, as well as recently established companies developing into more mature organizations," said Amanda Zhang, PwC North China technology industry and private equity group leader.
With regard to activity by TMT sectors, the internet was the most popular sub-sector, generating deal value of $21.3 billion. Other popular ones include technology, telecommunications and mobile internet.
Sunny Dong, PwC China assurance partner, said core investment sectors in the TMT sectors were all closely linked to smart modern lifestyles, such as internet finance, e-commerce and mobile services.
"This trend indicates that investors pay attention to new companies with innovation and entrepreneurship in fields that are changing people's lifestyles and living environments," said Dong.
Mergers and acquisitions for the first time became the most popular way to exit by private equity and venture capital investors in TMT deals in the first half. There were 57 exits through M&As in the first six months.
"IPOs in A-shares are still facing a long waiting period at present, which is a big challenge for TMT companies that have seen relatively big fluctuations and this is a key factor underpinning the recent trends by TMT companies considering strategic sales, and other exit methods," said Zhang.