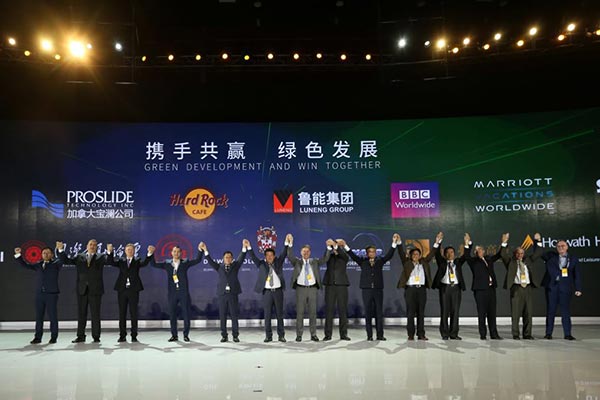 12 domestic and foreign well-known brands signed strategic cooperation agreements with Luneng at the news conference on Sept 20, 2016. [Provided to chinadaily.com.cn]
Shandong-based real estate and new energy developer Luneng Group has pledged to practice the green development concept and become an "ecological model", said Lan Hai, the group's vice-general manager in Beijing on Tuesday.
"Driven by our responsibilities, Luneng will take care of the natural environment, create green products and promote green lifestyle," Lan said at the company's news conference.
Last year, China introduced five development concepts - Innovation, coordination, green development, opening up, and sharing - to guide the country's development during the 13th Five-Year Plan period and facilitate building a "moderately prosperous society in all respects" by 2020.
In order to fulfill the concepts, the State-owned company for the first time prioritized ecology as the top product strategy in September last year. On April 22, 2016, Luneng released its green development strategy and launched the transformation process of its real estate sector.
So far this year, the company has pocketed 42 billion yuan ($6.3 billion) from property sales, not far from the annual target of 60 billion yuan.
"Green development means sustainable growth," said Zhou Tao, executive director of Luneng Commercial & Tourism Property Company.
"We are going to build a world-class mega resort in Wenchang, Hainan province, famous for the space launch center, with an investment of a few billion yuan," said Zhou.
To make the resort more educational and interesting, Luneng has joined hands with BBC Worldwide and Pinnacle International to develop theme attractions.
According to the framework agreement, two of BBC Worldwide's biggest and most successful global brands - BBC Earth and Top Gear - will be built as theme attractions within the resort.
"BBC's natural history content is very popular in China. We would like to work with BBC Worldwide to transform some of those contents to experience-based attractions so that all generations can learn more about our planet, nature, and environment," said Zhou.
The 46-square-kilometer project, including five landscape areas, three world-class theme parks, 11 museums and 26 hotels, is scheduled to be operational in 2019.
All together, 12 domestic and foreign well-known brands signed strategic cooperation agreements with Luneng at the news conference.