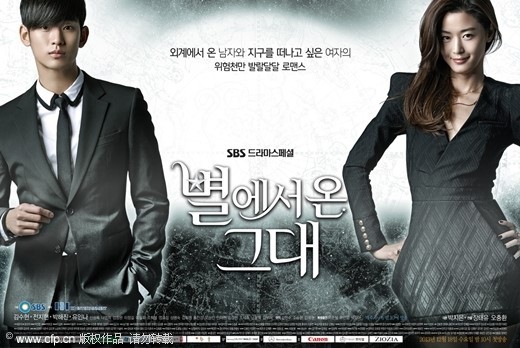 Photo taken on May 22, 2014, shows the poster of "My Love from the Star". [Photo/CFP]
What do an alien love story, a boy band and the card game baccarat have in common? They are helping attract record numbers of Chinese tourists to South Korea.
Visitors from China rose 54 percent to 2.7 million in the first half of 2014, enticed by South Korea's hit television series My Love from the Star, K-Pop singers and an expanding casino industry.
This influx is a boost for the $1.3 trillion economy and a stock market enjoying its third year of gains, and is also shielding South Korea's economy from a stronger won.
South Korean President Park Guen-hye is trying to leverage pop-culture success into thriving fashion, cosmetics and services industries. Shares of Amorepacific Corp, the face-cream maker whose ads include the female lead from the TV series, surged 105 percent this year through Monday, while Hotel Shilla Co, which got 76 percent of sales from Chinese visitors in 2013, rose 92 percent.
"We've found the growth engine for the country's consumption market," said Juhn Chong-kyu, a strategist at Samsung Securities Co in Seoul. "Considering that this trend will continue for the next three to five years, it's an investment opportunity you can have faith in."
South Korea's biggest brokerage by market value has Amorepacific, Hotel Shilla, and casino-operator Paradise Co among its top stock picks, according to a report last month. The success of My Love from the Star in China is the latest sign of Korean pop culture's growing appeal overseas, after rapper Psy's viral music video Gangnam Style and hits from K-pop bands such as Big Bang, who appeared in a Korea Tourism Organization ad called Imagine Your Korea.
Chinese President Xi Jinping drew applause from students in South Korea last month after citing My Love from the Star in a speech on ties between the two nations, the Xinhua News Agency reported. The romantic comedy about a beer-guzzling Korean actress in Seoul and a handsome alien who landed on Earth 400 years ago, has gained almost 2.7 billion views on Chinese video - streaming site iqiyi.com.
The show "got Korean drama booming again in the China market", said Mike Suh, head of global business for CJ E& M Corp, a Seoul-based media and games company. It plans to co-produce two Chinese language movies this year, he said.
Ji Jing, a 25-year-old from Beijing, traveled to South Korea this month to visit filming locations for the show and buy cosmetics worn by the lead actress, Jun Ji-hyun. She said the strengthening Korean won, which trades about 0.9 percent away from a six-year high against the dollar, was no deterrent.
The Korean currency has appreciated 3.1 percent against the dollar this year, while the yield on three-year government notes has dropped 31 basis points, or 0.31 percentage point, to 2.56 percent. The Kospi index has gained 2.1 percent, versus a 7.3 percent advance in the MSCI Emerging Markets Index.
Amorepacific and its parent company are the two top-performing stocks in the MSCI All-Country World Consumer Staples Index this year. The Seoul-based firm posted a 52 percent jump in second-quarter earnings this month, prompting brokerages, including Samsung Securities and IBK Securities Co, to raise their price targets for the stock. The shares will probably climb another 9 percent during the next 12 months, according to the average of 21 analyst estimates compiled by Bloomberg.