Editor's note: In 2010, a series of employee suicides cast a dark cloud on Foxconn Technology Group and its most well-known partner Apple, Inc. Over the past four years, the company that puts the finishing touches to Apple's popular iPad and iPhone products, has had to reboot its own image.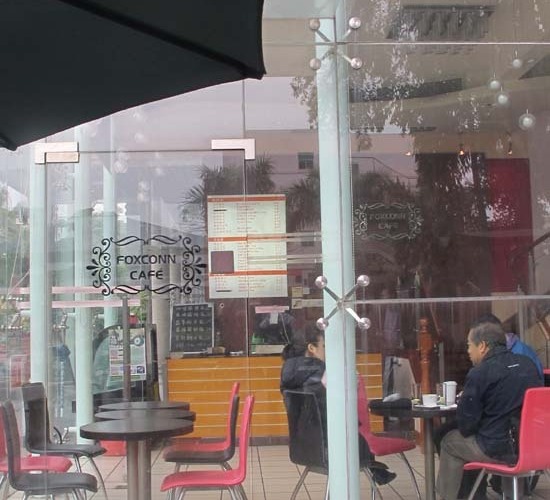 People sit and talk inside Foxconn Cafe at Foxconn's Longhua factory in Shenzhenon March 6, 2014.  [Cai Muyuan / chinadaily.com.cn]
The windows of a two-storey
coffee
shop glimmer in the morning sun. Sitting by the end of a tree-lined street alongside a bakery, bank, mobile phone shop and a grocery store, the Foxconn Cafe is a shining attraction for the company's employees in Shenzhen.
On this recent day, however, no one in a Foxconn uniform is enjoying the cafe; the day shift at the nearby factory, which produces iPhones and iPads for US technology giant Apple, has just begun.
With two swimming pools, neatly manicured lawns and nice utilities, Foxconn's Longhua facility in Shenzhen is recognizable as a factory only by the uniformed workers who stream in and out.
Foxconn fact box
Taiwan's technology giant Foxconn, also known as Hon Hai, is the world's largest maker of computer components.
Founded in 1974 by Terry Guo, Foxconn opened its first mainland manufacturing plant in Longhua, Shenzhen, in 1988. Now the company has about 30 factories and one million workers across China.
Longhua factory in Shenzhen has 16,000 workers. The average age of workers at Foxconn is 23 and the sex ratio is six men to four women.
Foxconn's trade volume in 2012 was 174.6 billion yuan ($28.9 billion). Forty percent of Foxconn's overall revenue comes from Apple.
Foxconn saw a 13 percent rise in net profit to $3.5 billion in 2013.  
There are other tell-tale signs as well. For example, the rooftops of some of the tall buildings are ringed with nets, perhaps inspired by the 18 attempted employee suicides the company suffered in 2010.
While the press made much of the incidents of four years ago, Taiwan-based Foxconn has never admitted the suicides had anything to do with its management.
Liu Kun, the company's spokesman, even had a simple explanation for why the nets were still there even though the highly publicized suicides had stopped.
"You know, it will cost a fortune to take them off," he half-joked.
Liu pointed to the factors that contributed to the suicides, noting that of the factory's 160,000 workers, the average age is 23.
"The problem is that the young workers are not loyal and can't handle any pressure," said Liu. "They are like working holiday tourists, coming here to see Shenzhen and then go to Shanghai to learn about the people there."
Even so, Liu was quick to note the company now relies highly on this generation of laborers.
Post-90s problem?
Lu Erfeng is one of the "tourists" that Liu was referring to. Having worked in Foxconn for four years, this 21-year-old decided he has had enough and handed his resignation by the end of March.
Working eight to ten hours a day, punching out 3,000 to 4,000 motherboards, made Lu "so sick of his life".
"You can't talk to each other or listen to music when you work. Every few hours we are allowed to take a 10-minute break and all my smoker friends would chain-smoke three or four cigarettes and sometimes they get dizzy afterwards," he said.
"I make about 3,000 yuan per month and can usually save half of it," said Lu, adding he is unhappy with his wage and working environment.