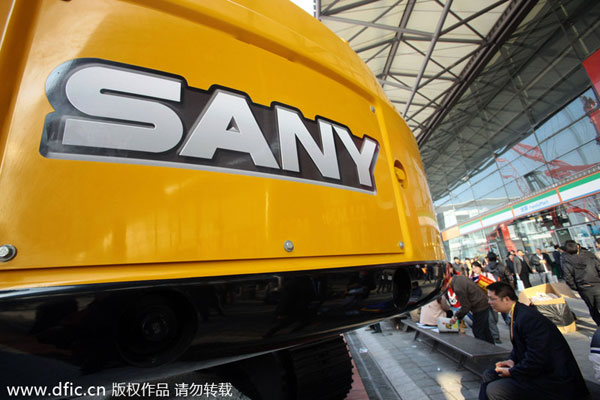 Visitors rest next to the stand of Sany during the 2012 International Trade Fair for Construction Machinery, Building Material Machines, Construction Vehicles and Equipment, known as BAUMA China 2012, in Shanghai, Nov 27, 2012. [Photo/dfic.cn]
Sany entered Africa in 2002 when it started selling equipment to Chinese companies and other companies through local agents. Two years later, it decided to establish a physical presence in the continent.
"The number of staff stationed in Africa peaked at more than 400 in 2007, but we thought the way we were selling was inefficient and unsustainable, so in 2009 we overhauled the way we sell," said Zeng
Since then, Sany has set up 30 subsidiaries worldwide that offer ancillary services, and sales operations were overhauled to give agents a key role. Representative offices in various countries were supplanted by bigger regional offices.
Of Sany's original decision to enter Africa, Zeng said: "At the time, all the leading heavy equipment companies felt that the only way to survive in the long run was to go international."
In South Africa, about 90 percent of Sany's customers are local, Xiao said.
"But in other main markets such as Angola, Cameroon, Ghana and Tanzania, it's split between local companies and Chinese companies."
Sany's products have been proven in construction projects worldwide, he said, including the main stadium of the football World Cup in South Africa in 2010, a railway line linking Johannesburg and Pretoria, emergency work on the Fukushima nuclear power station in Japan and in a mining disaster in Chile.
Xiao said Sany's machinery has a price advantage over that of its competitors in Europe and that its prices are close to those of its Japanese competitors.
"But among other Chinese and South Korean heavy machinery makers, there is no doubt our products are more expensive. That's because of our outstanding competitive advantages."
In China, Sany has a research and development team of more than 6,000 engineers.
"We also have the largest manufacturing base and best machinery in China," Xiao said.