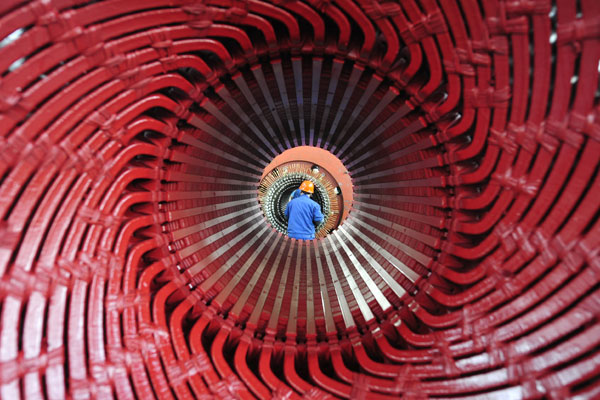 A worker installs rotor coil at a CITIC Heavy Industries Co Ltd plant in Luoyang, Henan province. The HSBC Purchasing Managers'Index slipped to 48 in March from 48.5 in February. Huang Zhengwei / For China Daily
Industry reports lowest March PMI in 9 years, driven by a weak rise in demand demand, latest figures reveal
China's manufacturing sector is still suffering from weak demand, according to the latest Purchasing Managers' Index for March, adding to signs that the world's second-largest economy slowed in the first quarter.
Analysts said policymakers need to work out more measures to stabilize growth, given the fact that many economic figures released so far this year - including industrial production, fixed-asset investment and housing sales for the first two months - were all weaker than forecast.
The manufacturing PMI in March climbed to 50.3 from 50.2 in February, marking the first increase since November, supported by a slight improvement in output, new orders and finished goods inventory, according to data released on Tuesday by the National Bureau of Statistics and the China Federation of Logistics and Purchasing. It was the lowest March figure for nine years.
The PMI figure for large enterprises increased to 51, compared with 50.7 in February and that for the medium-sized enterprises eased slightly to 49.2 from 49.4, while that for small companies rose for the second consecutive month to 49.3 - the highest level since July.
If the reading is above 50, it indicates expansion.
"The worst time this year for the Chinese economy may have passed," said Liu Ligang, chief economist in China at ANZ Banking Group Ltd. An expected acceleration of investment projects and the current relatively loose monetary policy will improve the country's economic indicators in the coming months, he said.
"How fast the rebound is will depend on whether the central bank can cut financing costs or the loan interest rate for enterprises," Liu added.
The benchmark stock index - Shanghai Composite Index - was 0.7 percent, 14.15 points, higher at Tuesday's close. The Hong Kong Hang Seng Index jumped 1.34 percent.
Despite the 0.1 point improvement in the latest PMI data, it was the lowest figure for March since 2005. "It is under-performing the normal seasonal pattern rather notably, suggesting that the underlying momentum in the manufacturing sector likely remains on the soft side," said Zhu Haibin, chief economist in China at JPMorgan Chase & Co.
The weak number reflects the effect of the credit-tapering process starting in the second half of 2013, lingering overcapacity problems in a number of industrial sectors, the near-term effects of the anti-corruption campaign on public consumption and public investment as well as slowing household income growth, according to Zhu.