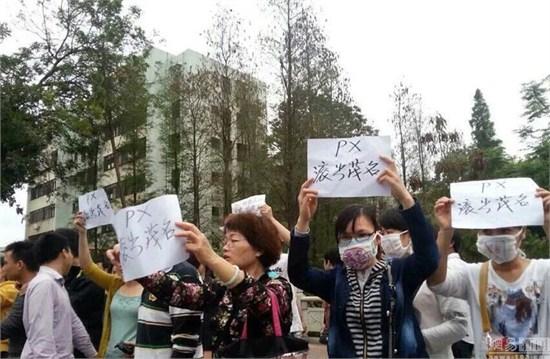 A rally against the construction of a petrochemical plant in Maoming, an important production base in Guangdong province, was illegal, the local government said. [Photo / guancha.cn] 
Hundreds walk streets in early hours, worried about harm to environment
A rally against the construction of a petrochemical plant in Maoming, an important production base in Guangdong province, was illegal, the local government said on Monday.
Crowds of residents have taken to the streets since Sunday in protest of a proposed 3.5 billion yuan ($569 million) paraxylene project that would add to the city's existing petrochemical operations jointly run by the local government and State-owned oil giant Sinopec. Residents fear it will harm the environment.
According to a statement by the government, the action was illegal, violating the Law on Assemblies, Processions and Demonstrations, as it was not previously applied for with the government or approved.
The local government said that a small group of demonstrators destroyed some public facilities by throwing rocks and bottles at about 10:30 pm on Sunday.
Photos uploaded on some major Chinese Internet portals show that hundreds of residents gathered in front of the government building on Sunday in the early morning and walked through the city, holding banners in protest of the proposed plant.
No casualties had been reported as of Monday, according to the government. Calls to the local publicity department went unanswered on Monday.
The protest followed the suspension of paraxylene projects in Xiamen, Fujian province, Dalian, Liaoning province and Kunming, Yunnan province, since 2007 after residents took to the streets in protest.