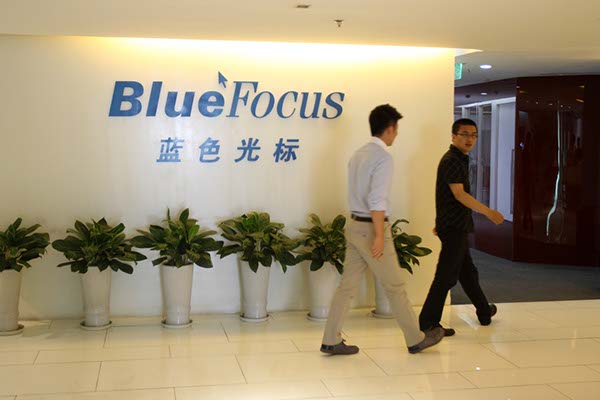 The first Chinese PR company listed on the Shenzhen Stock Exchange in 2010, BlueFocus Communications Group LLC raked in 2.17 billion yuan ($358 million) in 2012 and has seen a growth of almost 100 percent for the past three years. [Provided to China Daily]
Through mergers and acquisitions, local public relations agencies are taking on foreign rivals, Lyu Chang reports
For decades, Chinese public relations agencies have been struggling to challenge international PR firms that have been practicing their trade longer and have deeper pockets and global connections in a market, that is the third-largest market for the business after the United States and United Kingdom.
But Oscar Zhao, 44, chief executive officer of BlueFocus Communications Group LLC, one of China's biggest marketing services companies, said he believes that the situation has changed and his company has everything it takes to thrive on the global stage.
"Many multinationals that preferred to work with international companies are now turning to local companies for their marketing services because local companies deliver better results and business outcomes," he said, adding that BlueFocus gets at least half of its commissions from foreign companies.
"Foreign and local companies have different strengths and advantages in different respects. International PR firms usually rely on an experienced operating and management system, focusing on standardized routines and processes," he said. "But, as local companies, we are more flexible and have local knowledge and connections with local media and government. That's where we have an edge over foreign companies."
BlueFocus, the first Chinese PR company listed on the Shenzhen Stock Exchange in 2010, raked in 2.17 billion yuan ($358 million) in 2012 and has experienced growth of almost 100 percent for the past three years. Its biggest client is IT giant Lenovo Group Ltd.
The latest example that highlights the growing firepower of BlueFocus is a deal with the London-based social media agency We Are Social.
BlueFocus has aquired an 82.8 percent stake in the British company for an initial 186 million yuan, with additional performance-based payments to be made over a three-year period.
"It is our first major acquisition outside China. There will be more takeovers in the coming years," said Zhao, who, over the last couple of years, has been flying all over the world evaluating companies in terms of potential acquisitions.
"The globalization of local PR companies through overseas expansion is a trend that many local PR companies will follow," he said. "Because mergers have created the world's biggest advertising and PR groups such as the big four - WPP (Plc), Omnicom (Group Inc), Publicis (Groupe) and IPG (The Interpublic Group of Companies Inc)."
Through a series of domestic acquisitions, BlueFocus has branched out from its core PR business into other areas, including media buying, digital advertising, events and sales promotions and has more than 2,500 employees. It has now set its sights on international expansion.