The Shanghai Stock Exchange should further open up by taking such steps as inviting foreign companies to list yuan-denominated bonds on the bourse, Chairman Gui Minjie told a work conference.
"The SSE should follow the development of mature capital markets, combined with the distinct conditions of China.
"The SSE should actively participate in the construction of the Shanghai free trade zone and consider an international trading platform for financial assets," Gui said on Monday.
Gui's comments followed news last week that Germany-based vehicle producer Mercedes-Benz would issue renminbi bonds, also known as panda bonds, on the Chinese mainland.
According to media reports, these bonds would be the first of their kind from a non-financial offshore enterprise.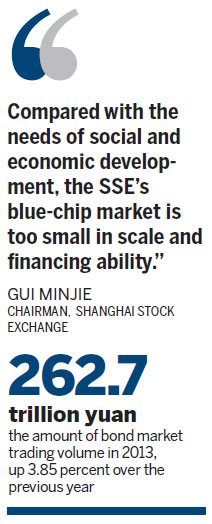 Gui didn't discuss details of the panda bond issues in his speech, according to the text posted on the exchange's website. Analysts said the question is whether the proceeds of these issues could be used offshore.
"If the funding is restricted to the domestic market, the panda bonds will be less attractive to overseas issuers, because[these limitations] will affect capital efficiency and returns," said Yu Fenghui, a financial columnist.
However, if the funds can flow abroad, it will be a breakthrough that can drain excess liquidity from the domestic capital markets, reduce appreciation pressure on the currency and promote yuan internationalization, he added.
China's bond market has been steadily expanding. Last year, bond market trading volume rose 3.85 percent to 262.7 trillion yuan ($43.4 trillion), according to the Shanghai Clearing House.
During his speech, Gui said another focus of the SSE's work this year will be to expand the blue-chip market.
"Compared with the needs of social and economic development, the SSE's blue-chip market is too small in scale and financing ability," he said.
Gui said the bourse has a dual task. First, it should attract more listings by attractive companies, especially in emerging strategic industries, to support China's economic transformation and provide more appealing investment targets.
Second, the SSE should support listed companies in expansion via refinancing, merger and acquisition transactions and asset investment.
He said the SSE will diversify its range of financial instruments, promote preferred shares and introduce mechanisms that facilitate the trading of blue chips.
The benchmark Shanghai Composite Index fell 6.7 percent in 2013, which was a weak year for many blue chips listed in Shanghai, partly because of doubts over their earning potential.