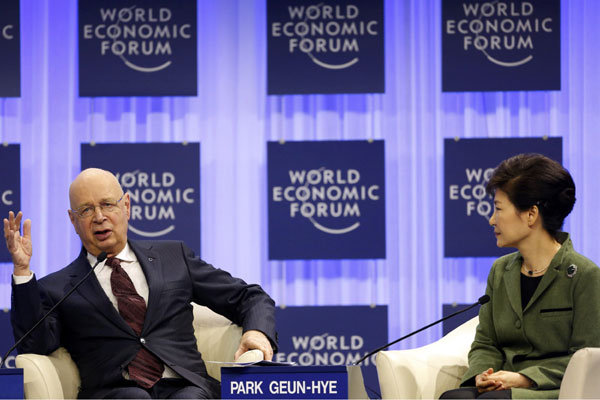 President of South Korea Park Geun-hye and Klaus Schwab (L) the founder and Executive Chairman of the World Economic Forum (WEF) attend a session at the annual meeting of the WEF in Davos Jan 22, 2014. [Photo/Agencies]
DAVOS - The snow-covered Swiss town of Davos in winter is probably the most bustling corner on this planet, where the annual meeting of the World Economic Forum (WEF) takes place.
As many as 2,500 political and business leaders from more than 100 countries and regions, including over 40 heads of state or government, have arrived in the highest city of Europe to attend this year's forum that opened Wednesday.
South Korean President Park Geun-hye, Brazilian President Dilma Rousseff and World Bank President Jim Yong Kim, as well as the prime ministers of Australia, Britain and Japan, were among the participants.
The youngest attendee is 21-year-old Umar Anwar Jahangir, CEO of Bahria Medics, a student-run social welfare organization in Pakistan. At the other end of the age range is 90-year-old Israeli President Shimon Peres.
"There is no place in the world where so many stakeholders of our global future assemble," Klaus Schwab, WEF founder and executive chairman, wrote in a press release.
Meanwhile, media staff from all over the world have been converging into the small town and busy doing interviews on the streets or setting up studios on the roof top of the conference center with a snow-mountain view.
As busy as the reporters are the more than 4,000 security personnel safeguarding the conference center and checking passing vehicles. Helicopters are hovering in the sky.
During a ski season and the convention of the grand WEF, it is too difficult to find a place to stay in Davos. Hotel prices have rocketed three or four times higher than usual. Some have to book a hotel in neighboring towns.
According to WEF statistics, the annual meeting generates around $49 million for Davos.
Under the theme "The Reshaping of the World: Consequences for Society, Politics and Business," this year's forum, underway from Jan 22-25, will discuss such topics as world economy, emerging markets, financial reform and climate change.
"We forget that we should look for solutions for the really fundamental issues. We should look at our future in a much more constructive, (and) in a much more strategic way. That is what Davos is about," Schwab said.